Pitcher & Player of the Week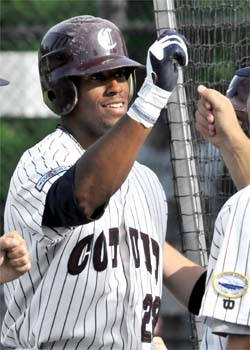 Victor Roache / photo by SportsPix


COCA COLA PLAYER OF THE WEEK:
Victor Roache, Cotuit OF
Cotuit slugger Victor Roache (Georgia Southern) has captured his second Player of the Week honor of this young season. Roache is the Cape League's most fearsome hitter, ranking second in the league in both batting average (.367) and home runs (five), while leading the league in runs batted in (24).
Roache added a home run and eight runs batted in to his totals over the course of six games this week, and failed to record a hit only once. His week was highlighted by a 2-4 performance versus Y-D, in which he homered, drove in four runs and scored two.
Roache has taken the Cape League by storm this season, and continues to put up gaudy all-around numbers at the plate. In addition to the triple crown categories, Roache's 33 hits are good for third best in the league, and his 22 walks are best in the league.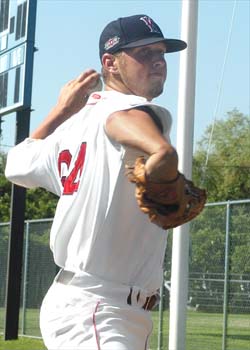 Joshua Turley / photo by SportsPix


COCA COLA PITCHER OF THE WEEK:
Joshua Turley, Wareham LHP
Wareham southpaw Joshua Turley (Baylor) has recorded two masterful performances to capture this week's Coca Cola Pitcher of the Week award. In his two starts this week, Turley surrendered just three hits and one run over 12 innings. He struck out more than a batter than inning, recording 13 strikeouts this week while walking only two.
Turley has been the epitome of consistent this season. After bouncing back from a rocky first appearance, Turley has given up only two runs in four starts. His 1-1 record this week brings him to 3-1 on the season, with a 2.03 earned run average.
Turley has finished his sophomore season at Baylor, where he continues to show great promise. He seamlessly transitioned from a reliever to starter this past year, and has clearly continued to the role of starter this summer.