Pitcher & Player of the Week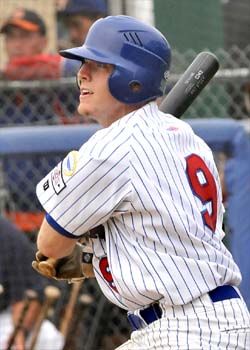 Dane Phillips / photo by SportsPix


COCA COLA PLAYER OF THE WEEK:
Dane Phillips, Chatham C
Rarely is a catcher able to handle his duties behind the plate and still outhit other position players, but Chatham's Dane Phillips (Oklahoma State)has done just that this week.
Phillips recorded three multi-hit games this week, reached base at least once in every one of his seven games, and recorded a hit in all but one. He also homered twice and drove in eight runs. Phillips showed remarkable plate discipline, walking seven times in those seven games.
Phillips is providing outstanding offensive production for the Anglers from a taxing position not normally known for its offense. His four homers leave him tied for third in the league, and he maintains a strong .317 average.
Phillips has just finished his sophomore season at Oklahoma State. He was drafted in the 49th round of the 2009 Major League Baseball Draft coming out of high school.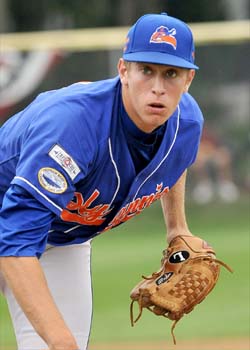 Jon Moscot / photo by SportsPix


Jon Moscot, Hyannis RHP
Hyannis hurler Jon Moscot (Pepperdine) is this week's Coca Cola Pitcher of the Week after allowing no earned runs in a win over Cotuit this week. Moscot scattered seven hits over seven innings and allowed only an unearned run.
In the win, Moscot was able to shut down the Cape League's premier hitter, Victor Roache (Georgia Southern), striking him out twice and not allowing Roache to reach base in four plate attempts.
Moscot has a solid 3.29 earned run average this summer, but only a 2-3 record to show for it. The soon-to-be junior at Pepperdine has shown promising stuff, striking out 40 in his 38.1 innings pitched.