Pitcher & Player of the Week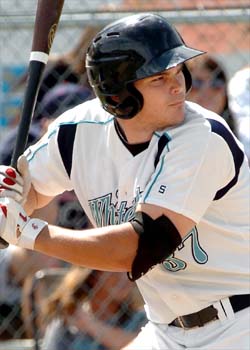 Taylor Ard / photo by SportsPix


COCA COLA PLAYER OF THE WEEK:
Taylor Ard, Brewster IF
In a week shortened by the Cape Cod Baseball League All-Star Game at Fenway, this week's award winner is Brewster's Taylor Ard (Washington State). Ard had a hit in every game except one this week, including a grand slam versus Chatham, and 2-3 performance against Orleans that included a double and two runs batted in.
Ard is a Cape League veteran, having played for Brewster last year. He is a third-year sophomore at Washington State. After being named a junior college All-American at Mt. Hood Community College in 2009, Ard was second in the Pac-10 in slugging percentage (.557) and tied for second in homers (10) as a rookie this past season.
Ard is was drafted by the Florida Marlins in the 33rd round of the 2010 MLB draft, and was drafted this year by the Boston Red Sox in the 25th round.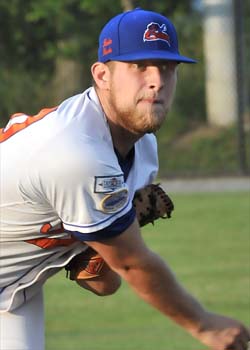 Corey Roberts / photo by SportsPix
COCA COLA PITCHER OF THE WEEK:
Corey Roberts, Hyannis RHP
Hyannis has captured consecutive Coca Cola Pitcher of the Week awards, with Corey Roberts (UNC Charlotte) earning the distinction this week. Roberts threw six shutout innings in a 2-1 win over Wareham, in which he allowed only one hit and struck out three.
Roberts has appeared in six games for the Harbor Hawks in various roles. He currently stands at 1-1 with a 3.00 earned run average.
Roberts has two years of experience at UNC Charlotte, where he was named a Louisville Slugger Freshman All-American as a rookie. He also made the Atlantic 10 All-Rookie Team.