Weekly Season News
08/11/2008 1:50 PM
Article By:
11 August 2008
THIS WEEK IN THE CAPE LEAGUE
Championship Week
Harwich Sends Orleans Home
As Dropped Fly Ball in 18th Inning
Delivers 1-0 Win, Berth in Finals
HARWICH, Mass. – The Harwich Mariners have been waiting 11 years to get back into the Cape Cod Baseball League championship series, so they had no trouble waiting another 4 hours and 27 minutes to get another opportunity.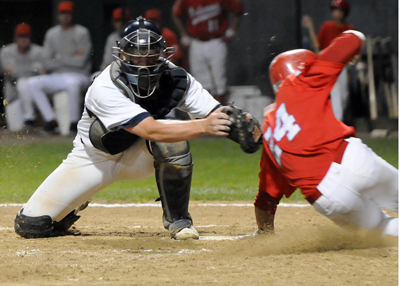 Tommy Medica's throw from left field to catcher Mark Fleury cut down
Orleans' Angelo Songco in the seventh inning
to keep the game scoreless until the bottom of the 18th inning.
swilson/ 2008
That's how long Harwich and Orleans had been playing Sunday night at Whitehouse Field before Brian Kemp (St. John's) scored the game-winning run in the bottom of the 18th inning on a dropped fly ball to give the Mariners a 1-0 victory which eliminated the regular-season East Division champion Cardinals from the playoffs.

The marathon contest saw 470 pitches thrown as the teams combined to leave 20 runners on base before the only run was scored.

After retiring the first two batters to open the home half of the 18th, Alex Hassan (Duke) allowed a single to Kemp. Tommy Medica (Santa Clara) followed with a sharp infield single to third base.

That brought Brandon Belt (Texas) to the plate, and on the first pitch, he skied a fly ball into the fog in left field. Angelo Songco (Loyola Marymount) called off his shortstop, but the ball bounced off his glove and fell to the ground as Kemp raced home.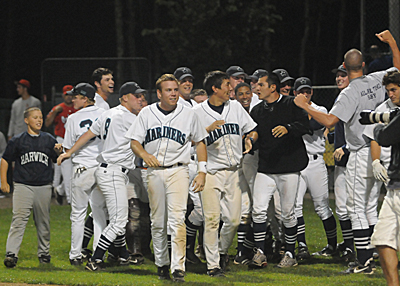 Harwich Wins in 18 Innings to move into the Championship series.
swilsonl/ 2008
"It was a really tough play and there was probably a little communication problem," said Belt. "But in the end we won, and I'm just happy about that."

Both pitching staffs were immense. Orleans' Matt Thomson (San Diego) pitched 7¨÷ innings, striking out eight batters and allowed just three hits. Adam Wilk (Long Beach State) struck out six batters in 3¨ø innings and Hassan scattered four hits and struck out five in 6¨ø innings on the mound after playing the first 11 in center field.

Harwich's Billy Bullock (Florida) matched Thomson inning-for-inning, pitching nine innings of five-hit ball and fanning two. Steve Kalush (Santa Clara) came in on relief in the 11th and allowed one hit in 5¨ø innings of work.

The Mariners had a great opportunity in the 11th when Kemp laced a one-out double down the left field line, the game's first extra-base hit. After two walks and an out, Andrew Giobbi (Vanderbilt) struck out with the bases loaded to end the threat.

Steve Englert praised his team for battling throughout the game. "They just keep fighting away. You don't walk anyone and play good defense and come up with a big hit when you can … and that's what they did."

Kemp's run in the 18th broke up a string of 25 consecutive scoreless innings by Cardinal pitchers. Harwich had scored four runs in first inning of game one couldn't push another run across the plate until the 18th inning of game two.

Harwich will be watching with interest on Monday as Falmouth plays at Cotuit to decide which team will meet the Mariners in the championship series. If Cotuit wins, the first game of the finals will be at Cotuit at 3 p.m. Tuesday, while a Falmouth victory will result in game one being played at 7 p.m. Tuesday at Harwich.

Phil Garceau, CCBL Intern ([email protected])

Interns 2008: Chris Blake, James Chandley, Ashley Crosby, Phil Garceau, Stefanie Marini, Laura Rasmussen