Weekly Season News
08/07/2009 10:54 AM
Article By:
7 August 2009
Cotuit Cruises Past Wareham in Elimination Round
By Ashley Crosby, CCBL Intern
COTUIT, Mass.—Cotuit struck early in the one-game elimination round against Wareham to cruise to a 5-2 victory over the Gatemen Friday afternoon. Cotuit will move on to face either Bourne or Y-D tomorrow in the second round of the playoffs. The Kettleers had quality pitching from their starter Justin Grimm (Georgia) and reliever Ben Rowen (Virginia Tech) to keep them ahead of the Gatemen, with the hitters stepping up with some big hits early in the game.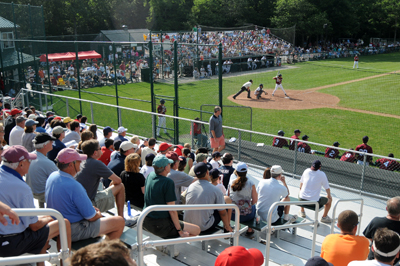 A large crowd at Lowell Park cheered the Kettleer's into the next round.
Photo by swilson 2009
Despite feeling erratic before the game, Grimm pitched six-plus strong innings, allowing only three hits and one unearned run in the fourth inning before being relieved by submariner Rowen. Grimm's 2.84 season ERA is sixth on the well-stacked pitching staff in Cotuit. He let up a hit on his first pitch of the game, giving up a double to Wareham third baseman Shea Vucinich (Washington St.) but said, "I found all three of my pitches and located them for the most part. I fell out of rhythm those last couple of innings but my defense made some big plays and got me out of them."

Grimm struck out 10 while on the mound, only giving up three walks.

Tony Plagman (Georgia Tech) got things started for the Kettleers, who scored in three consecutive innings, with a double to right field in the third inning. Rico Noel (Coastal Carolina) moved Plagman to third on a sacrifice bunt and Chris Bisson (Kentucky) drove Plagman home on a lazy sacrifice fly to left field. Kevin Keyes (Texas) drove catcher Cody Stanley (UNC Wilmington) home on a single in the fourth.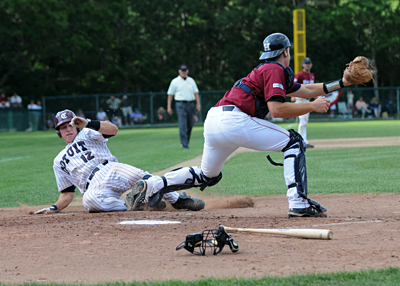 Cody Stanley safe in the fifth inning
Photo by swilson 2009
Noel crossed the plate on an RBI single by Zach Cone (Georgia) to start the fifth, and Stanley finished the inning by hitting his second home run of the season, a two-run home run that plated Cone and pushed the Kettleers to a 5-1 advantage.

"We were good until the home run I think," said Gatemen field manager Cooper Farris. "The home run kind of put us down, but our guys kept fighting to come back and that's all you can do."

The Gatemen got their first run in the fourth when Jake Lemmerman (Duke) drove in Zach Wilson (Arizona St.), who reached on an error earlier in the inning. They struck again in the eighth inning when Vucinich hit an RBI single, driving catcher Robert Kral (Charleston) in for Wareham's second and final run.

The Kettleers will move on in the playoffs. If Orleans defeats Chatham in tonight's 7 o'clock game, the Kettleers will face Y-D at Red Wilson Field on Saturday at 3pm. If Chatham wins over Orleans, Cotuit will be at Doran Park in Bourne tomorrow night.

Ashley Crosby can be reached at [email protected]

Interns: Chris Blake, James Chandley, Ashley Crosby, Phil Garceau, Michael Campbell, Katy Ann Fitzpatrick