Weekly Season News
08/10/2009 11:11 AM
Article By:
10 August 2009
THIS WEEK IN THE CAPE LEAGUE
2009
JOHN J. CLAFFEY
TOP NEW ENGLAND PROSPECT AWARD
Y-D Red Sox Mickey Wiswall
Named John J. Claffey Award Winner
As Outstanding New England Prospect
S. YARMOUTH, Mass.— Mickey Wiswall (BC) not only grew up in New England, but still attends school here in Massachusetts at Boston College. The Stoneham, Mass. native made for a perfect choice for this year's John Claffey New England Top Prospect Award, batting .302 in his 43 games this season while playing for the Y-D Red Sox.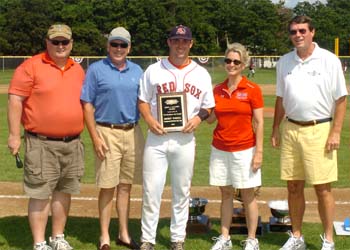 Mickey Wiswall named as the Outstanding New England Prospect.
Commissioner Paul Galop, Senior Vice President Jim Higgins, Mickey Wiswall, President Judy Scarafile and Vice President Peter Ford.
SportsPix 2009
The 6-1 infielder played at first base for the Y-D Red Sox this summer, though he traditionally plays third base while at school. With 48 hits, 30 RBI, and only 37 strikeouts in 159 appearances at the plate, Wiswall has been a formidable hitter that quickly became a fan favorite.

"I was really excited to play in the best college league you can play in. Seeing everyone's Friday night guy, number one, has helped me mature as a hitter," said Wiswall about his development in the league this summer. "Seeing a lot of the off-speed pitches and plus counts, I definitely recognize the pitches [better]."

He doesn't see many fastballs when he faces his BC assistant coach Steve Englert, who manages the Harwich Mariners during the summer. "He knows I like to hit those," said Wiswall. "He gives me a hard time every time I play him, but he's been one of my biggest supporters out here. He's great to play against, he's a riot."

Wiswall was presented the award before the first playoff game against Cotuit on August 8th to a rowdy applause complete with Y-D's ringing bells, but he wasn't looking for the award when he came out to the Cape.

"To be honest, I didn't even know there was [a New England Top Prospect award]," said Wiswall. "I was sitting in the dugout and they were reading it and I was thinking to myself 'ah' and then everyone gave me a nice little tap and I went out there. It felt great, a lot of my family is here, I got a nice little round of applause, so I felt like it was a real good accomplishment."

The best part of being from New England for Wiswall has been the ability to have family come to games. With many of the players in the Cape League coming from the south and west, most players are lucky to have their families visit once or twice a summer.

"My family can come down to the games since I'm a Massachusetts kid, so I think that's the best thing," said Wiswall. "I played in Virginia last summer and they didn't get to get down there too much, so the biggest thing is having family and friends at a lot of the games."

Ashley Crosby can be reached at [email protected]

Interns: Chris Blake, James Chandley, Ashley Crosby, Phil Garceau, Michael Campbell, Katy Ann Fitzpatrick