Weekly Season News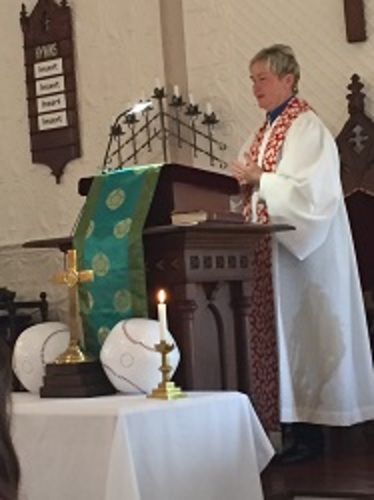 06/21/2017 1:04 PM
Article By: CCBL Public Relations Office
"Get your Bible baseball cards here!" sang out the Rev. Nell Fields, striding down the aisles of her church before services began on Father's Day, in a flowing white robe, wearing a red alb festooned with baseballs.
Baseball beach balls were tossed and batted back and forth and boys and girls walked down the aisles, offering Cracker Jacks, as the congregation dressed in baseball t-shirts, instead of their Sunday best, smiled and watched in amusement.
It wasn't your typical Sunday at Waquoit Congregational Church, founded in 1863, needless to say. For the past five years, the church and Cape Cod Baseball League's Falmouth Commodores have sponsored Baseball Sunday, an homage to the beginning of the town's Cape League summer action with lots of religious metaphors sprinkled in.
There was even a first-pitch to kick off Baseball Sunday as two of the six Commodores who attended, in uniform, were asked to toss a baseball in the aisle. "Play ball!" yelled Fields as the service got under way. Commodores players, team interns, intern supervisor Deb Brocklebank general manager Eric Zmuda and president Mark Kasprzyk were introduced. The Commodores players were enthusiastic worshippers and singers, Fields joking she was going to recruit them for the church choir.
Fields, a baseball fan who recalled listening to the Red Sox Impossible Dream Team in the late '60s, wove baseball lore into the unique service that packed the church on a humid Father's Day. She organized the service into a nine-inning format, with the "First Inning" being the usual "Greeting and Announcements," a hymn "Take Me out to the Ballgame" was retooled to "Take Me Out to God's Game," and so forth. Fields even led the congregation in "the Wave."
It was still a church service, of course, with traditional readings and prayers (including a prayer for the Commodores to have a winning season). But whenever she found an opportunity, the effervescent minister drew parallels between baseball and religion:
"You know, the idea for the seventh inning stretch actually came from the Bible: 'On the seventh day, God rested;"
"The worst words a batter wants to hear is 'Strike three, you're out!' but in God's eyes, there is no third strike.'"
"It's God's grace that leads us home."
"Many a player has gone through a bad season, a slump. Well there have been many people in a 'slump' in their faith journey."
She recalled asking a Commodore player once, how do you keep going out there, game after game, especially if you're in a slump?
"He told me, 'Miss Nell, I keep my eye on the ball and I don't look back.' Well, Jesus said 'keep your hand on the plow and don't look back. It's doesn't mean don't remember the past, but we grow from experiences. Don't let the past hold you back. What matters is how we approach our lives."