Weekly Season News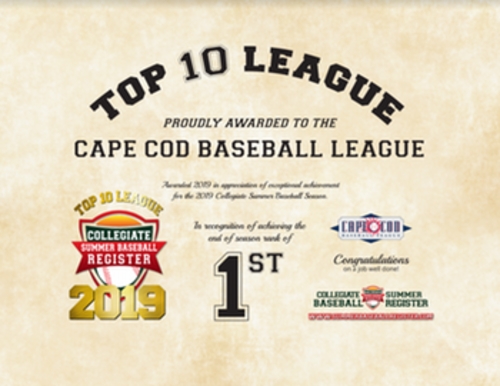 12/20/2019 9:30 AM
Article By:
For the second year in a row, the Cape Cod Baseball League has been named the #1 Collegiate Summer Baseball League in the Nation, according the Collegiate Summer Baseball Register (www.summerbaseballregister.com).

The Collegiate Summer Baseball Register is the largest directory of summer leagues and teams anywhere. Every year they compile a database of some 8,000 players on the rosters of 260 teams in 32 summer leagues and score each player based on the competition level of his college program.

"Winning this award is for all our volunteers who work so hard in making and keeping our league to be the best of all summer leagues," says CCBL president Chuck Sturtevant.

The 2020 Cape League season begins in June.