Weekly Season News
08/03/2006 9:15 AM
Article By:
3 August 2006
Seibert Feeling Right at Home on Cape Cod
BREWSTER, Mass. – In a year where it's hard for a pitcher to find his groove due to postponed games and long rainouts which turn into doubleheaders, Shaun Seibert (Arkansas) has defied expectations and has helped pitch the Brewster Whitecaps into contention for the playoffs.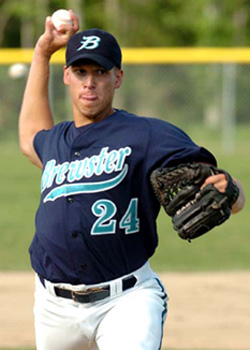 Shawn Seiibert
photo by SportsPix / 2006
Seibert is leading the Cape League this season in pitching with an impressive 6-0 record. Up to the last week of the season, he boasted a 0.00 ERA (which is now at 0.39 after he surrendered his first runs on July 31 against Harwich). He also has 36 strikeouts in 45 2/3 innings pitched, helping to fuel a Whitecaps playoff push that currently sees them three points ahead for second place in the East Division with games remaining against Chatham and Harwich, two teams that Brewster has fared well against this season.

Seibert, also known as "Seebs," which comes from the mispronunciation of his last name, feels that the transition from the SEC at Arkansas to the Cape League has not been a hard one. "The guys here are very similar," Seibert said. "They work hard and play hard but also love to play the game and enjoy it."

Whitecaps head coach Bob Macaluso has enjoyed watching Seibert improve with his pitching. "Seibert has always been a competitive guy, but what he lacked in the early part of the season was confidence," he said. "In the beginning of the season he would over look his stuff and not believe he had it in him. Seibert is at his best when he is aggressive, [but] in the middle innings he would lose some of his aggressiveness, making him not as effective. He has a good live fastball and is able to use both sides of the plate."

Macaluso also praised Seibert for the leadership he has shown on and off the field. "From day one he has been the number one guy in the clubhouse. He is always helping out during practice with [BP] or in the dugout before a start looking over charts. He comes to the field well prepared and is a wonderful guy to have in the clubhouse, most notably after a position player scores a run. He is always one of the first to congratulate him."

Seibert came to the Cape at the beginning of this summer looking to improve his changeup. "My changeup has come a long way," he said. "Before the season I think I had only thrown four in college, and now I use it as another pitch to get hitters out."

Seibert's favorite moments this season revolve around his team, where he has enjoyed getting to know these great players. "I will always remember these guys and I hope to play once again with them next season in the CCBL and also maybe against them in the College World Series." The most notable and recent moment for him was his start for the East Division in the All-Star Game, where he said he "enjoyed meeting other players from around the league and hearing their stories of the summer."

He is going to be a junior this fall at the University of Arkansas and finished the 2006 school season with a 2.79 ERA, good for second amongst all pitchers on the team. In 10 starts, he had a 4-0 record and 62 K's in 61 1/3 innings.

Seibert will be used as a starter in the playoffs, which start Tuesday, August 8. He may be Brewster's number one starter, as he has been all summer long, but Macaluso commented that it all depends on how the rotation works out in the final week of the season.
By Chad Burkart, CCBL Intern [email protected]