Weekly Season News
08/16/2006 10:28 AM
Article By:
16 August 2006
THIS WEEK IN THE CAPE LEAGUE
2006
CURLEY CLEMENT
UMPIRE AWARD
CAPE COD, Mass. – After working Cape Cod Baseball League games for over two decades, Peter Hall has received the third annual Curly Clement Award, presented for officiating excellence and contributions over the years to baseball umpiring.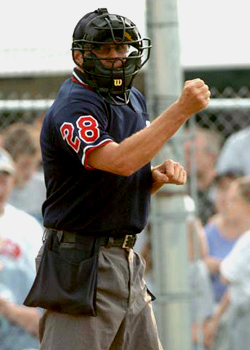 Peter Hall
SportsPix 2006
The award was presented to the CCBL Umpire of the Year at Brewster prior to working the Yarmouth-Dennis Red Sox/Brewster Whitecaps playoff game on August 9.

"On behalf of all the umpires who worked the Cape League in 2006, I am honored to receive this award," said Hall. "It is especially meaningful to me in this the year of Curly Clement's passing away. I had worked with Curly frequently. He was a mentor of mine and I know how much he loved umpiring and how much he loved the Cape League."

Clement worked as a Cape League umpire for four decades and was inducted into the CCBL Hall of Fame in 2002. He worked 16 NCAA Regionals, several ECAC Division I Baseball Championships and two NCAA College World Series during his career.

His final Cape League appearance was working home plate at the 2000 CCBL All-Star Game. He passed away earlier this year after a long illness.

Hall is a 1969 graduate of Harvard, where he was an All-Ivy League defensive end and played against Bulldog standouts Calvin Hill (father of NBA All-Star Grant Hill), Brian Dowling and the undefeated Yale team in the famous 29-29 tie in 1968.

He served as a teacher/coach in the Weston, Mass., public school system for several years, before retiring to work in the financial services industry. He is currently a sales consultant and also an assistant football coach at Nauset High School.

"Not only is Peter Hall an excellent umpire, but he has a certain presence about him," said CCBL deputy commissioner Sol Yas. "He is respected and very cool under fire."

A past president of the College Baseball Umpires Association of New England (2000-2001), Hall has umpired baseball games for over 30 years and is a member of both the CBUA and the ABUA.

Hall follows in the footsteps of Walter Bentson and Jim McNally, who won the award the previous two years.

"I also would like to recognize three umpires who were instrumental in my growth and development," said Hall. "They are veteran Cape League umpire John Tambolleo, whom I first worked with in 1979, Jim McCulloch, and Nick Zibelli, who is current director of baseball umpiring at the ECAC."

The ECAC, in its sixth consecutive season assigning umpires for the CCBL, provided more than 9,500 umpiring assignments this past season for more than 250 institutions. There were more than 80 ECAC umpires assigned to the Cape Cod Baseball League games this summer.
By John Garner, Jr., Director of Public Relations & Broadcasting [email protected]

Interns 2006 : Chad Burkart, Johnna DeChristoforo, Jonathan French, Michael Kydd, Lauren Malone
Adam McGillen, Nicholas Mucci, Courtney Reilly, Daniel Scalia, Shannon Taylor, Kevin Wolfe