Weekly Season News
08/29/2006 10:35 AM
Article By:
29 August 2006
THIS WEEK IN THE CAPE LEAGUE
2006
PAT SORENTI
MVP AWARD
Justin Smoak of the Cotuit Kettleers and the University of South Carolina has been named MVP of the Cape League for the summer of 2006. Although there were several worthy candidates, Smoak posted by far the most impressive offensive numbers in the league.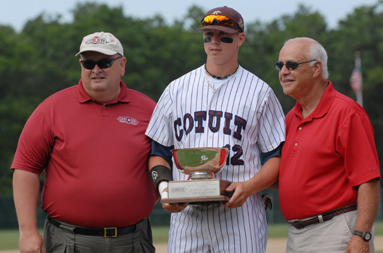 Justin Smoak, Cotuit Kettleers
swilson/ ccbl
Smoak led all hitters with 11 home runs, a .565 slugging percentage and 21 extra-base hits. An imposing batter at the plate, the 6-foot-3 Smoak made quite a splash this summer. Every plate appearance was a chance for fans to see something special, a chance for Smoak to send a ball flying as fast as you can say "Smoak."

Smoak, who will be a sophomore at USC this fall, felt honored to win the award and even to participate in the league.

"To be the MVP in the country's best summer league is a great honor," said the slugger. "I had a great year, a great experience. You really can't beat it."

Cotuit general manager Bruce Murphy loved his first baseman, saying that it's players like Smoak who keep the great volunteers that the league is so privileged to have hard at work each day.

"Justin had a great season, one we won't soon forget," added the proud GM. "I wish him all the best and I would love to have him back in the league next season."

The 2007 season seems far away at this point, but Cotuit fans can surely get excited about the prospect of having the league's best player in 2006 return to Lowell Park next June.
By Nicholas Mucci, CCBL Intern [email protected]

Interns 2006 : Chad Burkart, Johnna DeChristoforo, Jonathan French, Michael Kydd, Lauren Malone
Adam McGillen, Nicholas Mucci, Courtney Reilly, Daniel Scalia, Shannon Taylor, Kevin Wolfe