Weekly Season News
06/27/2007 2:26 PM
Article By:
27 June 2007
CCBL's Presence Felt on Team USA
17 of National Squad's 22 Players Have Ties to Cape League
CAPE COD, Mass. – Every summer, the nation's best college baseball players arrive on Cape Cod, leaving the aluminum behind and picking up newly lathed wooden bats to represent a local town in America's pastime.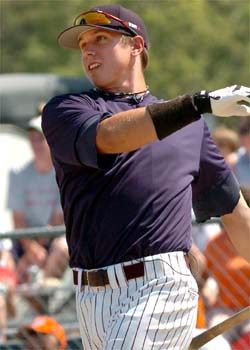 Justin Smoak, Cotuit 2006
SportsPix 2006
And every year, the first weeks of the Cape Cod Baseball League season are marked by jumbled and ever-changing rosters. Managers jostle with temporary players trying to make a strong impression while others finish extended post-season runs in the College World Series before crossing the canal.

As many players arrive, there are also those who leave the Cape League to travel the world as baseball ambassadors representing America. Team USA selects the best freshmen and sophomores from colleges across the nation, assembling a 22-man roster of the finest amateur players.

It comes as no surprise then that 17 of the players who made the final Team USA roster either played in the Cape Cod League last year or had been selected to join CCBL teams this year.

Pedro Alvarez (Vanderbilt), Ryan Berry (Rice), Jordan Danks (Texas), Danny Espinosa (Long Beach State), Ryan Flaherty (Vanderbilt), Logan Forsythe (Arkansas), Roger Kieschnick (Texas Tech), Lance Lynn (Mississippi), Tommy Medica (Santa Clara), Jordy Mercer (Oklahoma State), P.D. Paramore (Arizona State), Josh Romanski (San Diego), Tyson Ross (California), Cody Satterwhite (Mississippi), Justin Smoak (South Carolina), Jacob Thompson (Virginia), and Brett Wallace (Arizona State) made the team, representing all 10 CCBL clubs.
Last year, Team USA brought home a gold medal after defeating Chinese Taipei, 18-9, at the FISU World Championship in Cuba.

Currently, the team is 5-1 after touring the New England area. They are led by a phenomenal pitching staff that has held opponents to a .184 batting average and maintains an impressive 1.62 ERA. Former Cotuit Kettleer Smoak, who is currently batting .368, slugging 1.000 and leads the team with three home runs, heads the offense.

The team will continue to tour the U.S. through July 9, spending a majority of that time in North Carolina playing Chinese Taipei and Japan.

Following those series, Team USA heads to Brazil for the Pan American Games, played every four years and dominated by Cuba since 1971. Having earned a silver medal in the last two Pan American Games, Team USA hopes to finally break Cuba's grasp on the gold.

Team USA will return to the states to play China and the Netherlands National Team before heading to Rotterdam, the Netherlands, to finish its season at the World Port Tournament in August.

The enormous number of Cape Leaguers drafted each year into professional baseball is seen by many as the most notable indication of the talent that passes through Cape Cod each summer, but for those talented freshmen and sophomores chosen for Team USA, the honor of representing America in her own game, here and abroad, can be the crowning achievement of their baseball careers, with success measured in gold, silver and bronze.

By Adam McGillen, CCBL intern ([email protected])