Weekly Season News
07/27/2007 2:45 PM
Article By:
27 July 2007
Cape League Special
Thirteen Has Been a Lucky Number
for East All-Star Cole Figueroa of Harwich
HARWICH, Mass. – Thirteen is considered by the superstitious among us to be an unlucky number. But Cole Figueroa (Florida) proudly wears 13 on his jersey this summer as a member of the Harwich Mariners and he has disproved all of the negative connotations by becoming a top hitter in the Cape Cod Baseball League and earning a berth on the East Division All-Stars.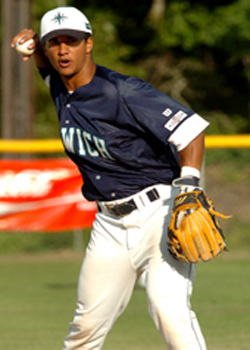 Cole Figueroa, Harwich Marines
SportsPix 2007
Figueroa and his identical twin brother, Corey, are both playing in the Cape League – Cole as a shortstop for Harwich and Corey (St. Petersburg) as a second baseman and shortstop for the Cotuit Kettleers.

"Baseball has been a big component in uniting my brothers and me," Cole said. That's right, brothers, plural. "My 15-year-old brother plays baseball, too," Cole explained. "We will go out in the back yard and throw or go and hit together."

In high school, Cole and Corey played on the same team and were highly competitive. "I remember one time we were in Ohio playing, and we made a bet that whoever hit less would have to go out in public in a dress," Cole said, laughing. "But it never ended up happening," he quickly added.

Dress or no dress, the twins have been ripping up the Cape League all summer. Their competitive streak has dissipated since they have gone their separate ways in college. "Corey and I root for each other now and hope that we both succeed," Cole said.

Although the brothers tried football and soccer in high school, baseball was always their sport of choice, as it has been in their family. Their father, Bien Figueroa, was a middle infielder drafted by the St. Louis Cardinals in 1986 and appeared in 12 games for the Redbirds in 1992. He is currently managing the Bowie BaySox of the Eastern League, a Baltimore Orioles farm team.

Their godfather, Luis Alicea, is a former big league infielder who is now the first-base coach for the Boston Red Sox.

"My father and godfather have been very supportive and they are always watching me play. They try to fix any kinks that I have at bat or out in the field," Cole said.

Cole hasn't shown many kinks in the Cape League this summer. At one point, he was leading the league in hitting, and his .386 on-base percentage was the highest on the Mariners. And his defensive play at the demanding position of shortstop has been impressive.

"As a shortstop, there are a ton of things you have to do," Cole said. "You must be a versatile player, and the scouts look at that."

Cole was elated when received the call from Harwich manager Steve Englert, congratulating him on his excellent performance this summer and welcoming him to the East Division All-Star Team's roster. "It's really exciting to be chosen as an all-star and to play in front of hundreds of scouts," Cole said.

Scouting directors and national cross-checkers will be out in force for the All-Star Game on Saturday, July 28, at Wareham's Spillane Field. They will be looking for prospects, those exceptional players who combine athleticism, speed, arm strength, power and the ability to hit for average. "I've played in front of over 12,000 people before, so the screaming and the pressure you feel is just something you get used to," Cole said. "Because if you don't, it's gonna be one long season."

Figueroa said playing for a major college team such as Florida more than prepared him for what he calls the "more relaxed atmosphere" of summer ball on the Cape. The level of competition in the Cape League continues to impress him. " I'm still a young player, and I have gone through a lot of aches and pains of not doing something right on the field," he said. "Sometimes I will find myself in the wrong position, but the experience of it forces you to learn. Here on the Cape you are playing with the best college players in the country, and you learn from them, too."

Figueroa said he models himself after Carlos Guillen, shortstop for the Detroit Tigers. "I've met him before. He's a great shortstop and middle infielder. He reminds me a little bit of myself," Cole said. "He's not the home-run guy, but just plays the game well."

Figueroa admits he's disappointed at Harwich's lack of success this season, but he is pleased by one team accomplishment. "I have to say we haven't won many, but when you beat up on Cotuit, my brother's team, and win three out of the four games in the series, it's a pretty good feeling," he said.

And the good feelings follow Figueroa. Having wrapped up his freshman year as a Florida 'Gator with a .332 batting average, 50 RBI and 11 home runs, he has excelled as a Harwich Mariner, and hopes to leave a lasting impression on the Major League scouts at the All-Star game.

Outfielder Kyle Day (Michigan State) and left-handed pitchers Evan Crawford (Auburn) and Corey Young (Seaton Hall), three of Figueroa's Harwich teammates, also were selected as East Division all-stars.

Hotels don't have a 13th floor, airplanes don't have a 13th row of seats and many people are on edge all day every time a Friday the 13th rolls around. But this Cape Cod Baseball League all-star is proving the number 13 he wears on his back is hardly unlucky.

By Lauren Malone, CCBL Intern [email protected]