Weekly Season News
08/11/2007 3:04 PM
Article By:
11 August 2007
THIS WEEK IN THE CAPE LEAGUE
Championship Week
Falmouth Stuns Bourne, 7-2,
In West Division Playoff Opener
BOURNE, Mass. -- Crystal blue skies, a brand new ballpark and baseball fans as far as the eye could see. That was the scene Saturday as the Cape Cod Baseball League's best-of-three West Division playoffs got under way between regular-season champion Bourne and runner-up Falmouth at Doran Park. When it was over, the visiting Commodores had wrested the home field advantage from the stunned and frustrated Braves with a convincing 7-2 victory.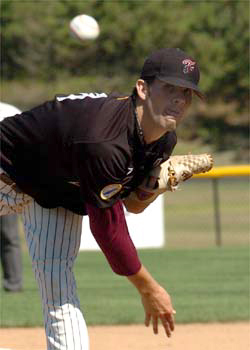 With 7 K's in 6 innings, Aaron Crow got the win.
SportsPix 2007
The series continues tonight at Arnie Allen Diamond in Falmouth, where the Commodores will try to end the series and advance to the championship finals against the East Division winner, Yarmouth-Dennis or Chatham. Game time is 7 p.m.

Falmouth drew first blood Saturday when designated hitter Phil Carey (Winthrop) singled to right in the second inning, plating first baseman Jeremy Farrell (Virginia), who had been hit by a pitch and moved to second when catcher Kevin Dubler (Illinois State) drew a base on balls.

The Commodores capitalized on a leadoff walk and a pair of throwing errors as they scored four times in the third against Bourne right-hander D.J. Mitchell (Clemson). Key hits were RBI singles by second baseman David Adams (Virginia) and Farrell, and a two-run double down the left field line by right fielder Aja Barto (Tulane).

Farrell was 2-for-4 in the game with two RBI and a run scored. Shortstop Joey Wong (Oregon State) went 3-for4, scored a run and contributed an RBI.

Bourne starter Mitchell was roughed up for six hits and six runs, five of them earned. He walked three and struck out five in six innings before giving way to Jesse Haney (North Carolina-Wilmington) in the seventh. Over his three innings of work, Haney scattered six hits, but allowed just one run while walking one and fanning six,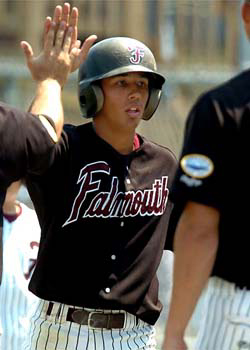 Joey Wong had three hits and scored one run.
SportsPix 2007
With an early lead to work with, Falmouth starter and winner Aaron Crow (Missouri) kept Bourne at bay through six innings, striking out seven Braves batters. During one stretch, he retired 10 in a row. The big right-hander, who was named All-Star Game West Division MVP, needed just nine pitches in the third inning and 14 in the fourth. He yielded only three hits – singles by right fielder Brian Pruitt (Stetson) in the first and by third baseman Kevin Hoef (Iowa) and first baseman Josh Satin (California-Berkley) in the sixth. Satin drove in Pruitt, who had walked to open the inning. It was the only run allowed by Crow.

The Braves got their only other run in the bottom of the seventh when center fielder Ben Guez (William and Mary) homered off right-handed reliever Aaron Shafer (Wichita).

Falmouth scored its final run in the ninth when Farrell followed left fielder John Wallace's (Oregon State) two-out triple to left-center with an RBI double down the right field line. Bourne reliever Jesse Haney (North Carolina-Wilmington) worked three innings and gave up one run.

By Erica Bailey, CCBL intern ([email protected])

Interns 2007: Erica Bailey, John Hannemann, Liz Hoffman,
Gabriella Remington, Kevin Wolfe