Weekly Season News
09/24/2007 3:37 PM
Article By:
24 September 2007
THIS WEEK IN THE CAPE LEAGUE
2007
JOHN J. CLAFFEY
TOP NEW ENGLAND PROSPECT AWARD
Bourne Infielder Bill Perry Wins John J. Claffey Award
As Cape League's Top New England Prospect of 2007
When the Oregon State Beavers won their second straight College World Series in May, it seemed like the winds were changing in college baseball. The West Wind that had carried Southwest heavyweights to a dynastic decade was changing, and it was heading north and east.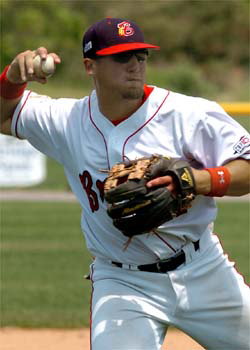 Bill Perry, Bourne Braves
SportsPix 2007
This summer in the Cape League, a few kids from the Northeast threw their lot in with the nation's best, and Bourne's Bill Perry (Hartford) came out on top of the regional crop.

Perry won the Cape Cod Baseball League's John J. Claffey Award as the New England Top Prospect of the Year for a stellar 2007 season. Perry is a local hero on the Cape, where he was a three-sport athlete for Falmouth High School, an All-State baseball selection as a senior and a two-time Old Colony League pick.

"Northeast players don't get to play year-round like West Coast kids do. We can't get outside until second week in March, and it hurts doing batting practice in 30-degree weather," he said. "It's great playing with guys across the country, though, because there are different styles and they stress different aspects of the game."

Despite a batting slump during the final weeks of the season, Perry's summer portfolio earned him the nod. Along with many of his Bourne teammates, Perry jumped out to a hot start at the plate, peaking at a .382 on July 4 before coming back down to earth late in the month.

"The pitching got a lot better as the season went on, and they picked up on my strengths," Perry said of the league's hurlers, who visibly turned a corner in mid-July and began dominating hot-start hitters. "They started mixing up pitches more and giving me a lot of sliders and that's something I know I have to work on now. That's part of playing on the Cape -- you learn very fast what your weaknesses are."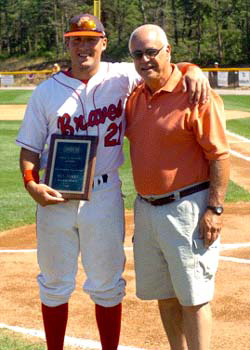 Bill Perry, Bourne Braves
with Umpire in Chief Sol Yas
SportsPix 2007
Perry showed the double-punch of power and for-average hitting that he did at Hartford this spring, where he led the Hawks in slugging (.518) and total bases (87), but also in sacrifice bunts.

Perry was a utilityman on offense for the Braves, bouncing around the batting order from the two spot down to the fifth, sixth and eighth slots. He finished with a .222 average, four doubles, 10 RBI and two home runs.

With several of Bourne's big guns out with injuries, including starting third baseman Kevin Hoef (Iowa), the opportunity was there for Perry to step up big. He moved from second base to split time at the hot corner, where he was Hartford's starter. At the plate, he came up with several big hits, including a walk-off home run that lifted the Braves over Orleans on July 7.

"I had a lot of fun with the breaks that came my way," Perry said. "Playing second base, moving from one side, is a totally different game — the way the ball comes off the bat, knowing where to be on each play. For me, it was about gaining knowledge about the whole field."

Perry is one of the Cape League's true success stories. He was one of those temporary players plugging holes as the College World Series wrapped up, and as the effects of the Major League Draft and Team USA selections played out.

Braves manager Harvey Shapiro had originally recruited Perry to Hartford, where he was the head coach for six seasons. Shapiro had some holes in his infield and Perry was a good fit.

"I knew he had a very good work ethic, and I needed some temporary players," Shapiro said. "He played very good defense, whether at second base or at shortstop or at third. He wanted to play and he worked hard to compete."

With his successful season, capped off by the John J. Claffey Award, Perry is a poster child for making the most of a lucky break.

"Coach Shapiro gave me an opportunity, and for me it was the opportunity of a lifetime," he said. "Our team had a bunch (of temporary players) and it just shows you that a lot of kids can play here if they get the chance."

Perry is entering his senior year at Hartford, with a final season with the Hawks and a degree in elementary education to complete.

"I would love it if baseball were in my future," said Perry, who wants to be a teacher. "But I'm not sitting here expecting anything. If it happens, that would be a dream come true, but if not I'll have my degree.

"The whole Bourne Braves organization is great and I had a lot of fun with the guys," he continued. "I'm so thankful for having had the chance to play here."

The award is named for John J. Claffey, Cape League president from 1990-91 and general manager of the Wareham Gatemen from 1984 to 1989. During his tenure, the Gatemen made the playoffs three times and won the league championship in 1988.
By Liz Hoffman, CCBL Intern, [email protected]

Interns 2007: Erica Bailey, John Hannemann, Liz Hoffman,
Gabriella Remington, Kevin Wolfe