07/23/17
For the first time in Cape Cod Baseball League history, the 2 MVPs are college teammates! Jimmy Herron (Orleans) was named our East MVP and our West MVP was named Griffin Conine (Cotuit). Both players play for Duke University and have had impressive summers here on Cape Cod!

07/23/17
Stephen Scott (Orleans) was crowned home run champion Saturday afternoon in the 2017 Cape Cod Baseball League Friendly's Home Run Hitting Contest. Batting from the left side, Scott covered the area beyond the right field wall with souvenirs at Clem Spillane Field in Wareham as he belted his way to victory over the other five competitors.


07/15/17
SOUTH YARMOUTH, Mass. -- The annual All-Star matchup between the East and West Divisions is slated for Saturday, July 22nd, at Clem Spillane Field in Wareham, Mass. First pitch is scheduled for 6:05 p.m. Tickets to the game are only $5 and are available now at all 10 parks and at the gate on gameday.


07/05/17
The first ever Celebrity Softball Game Friday, July 21, as part of Cape Cod Baseball League and Spaulding Rehab Hospital/Cape Cod's All-Star Weekend, continues to build excitement with an expanding roster of stars.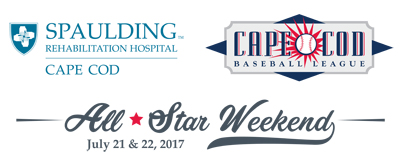 07/09/17
Somehow we have already reached the halfway point in our 2017 season. League-wide parity continues to be present with all ten teams being highly competitive in both divisions.
Chatham
0
07/26/17
5:00pm
Brewster
0
Wareham
0
07/26/17
5:00pm
Cotuit
0
Harwich
0
07/26/17
5:00pm
Yarmouth-Dennis
0
Orleans
0
07/26/17
6:00pm
Bourne
0
Hyannis
0
07/26/17
6:00pm
Falmouth
0
Team
W
L
T
PTS
Streak
L10
East Division
Orleans Firebirds
25
11
0
50
4W
9-1
Yarmouth-Dennis Red Sox
23
11
1
47
9W
9-1
Brewster Whitecaps
16
18
2
34
1W
3-6-1
Chatham Anglers
17
19
0
34
1L
5-5
Harwich Mariners
10
25
1
21
9L
1-9
West Division
Bourne Braves
18
17
0
36
1L
5-5
Falmouth Commodores
18
17
1
37
1W
6-4
Cotuit Kettleers
17
17
1
35
2L
3-7
Wareham Gatemen
16
18
1
33
3L
5-5
Hyannis Harbor Hawks
13
20
3
29
2W
2-7-1

07/19/17
Coca-Cola's Cape Cod Baseball League's Player/Pitcher of the Week - Week 5!


06/24/17
Well, we finally had our opening night and what a night it was! The crowds were great and the baseball was even better. The media coverage we have received over the last week has been tremendous. When "Play Ball" was announced last night it meant thank you to all the volunteers in the entire league for their efforts in the off season to make last night possible.