League News
02/24/2008 8:58 AM
Article By:
for immediate release: 24 February, 2008
Cape League's Joe Sherman Among Trio
Honored By Boy Scouts Of America
51 Years After Firefighting Effort
HYANNIS, Mass. – A Cape Cod Baseball League volunteer has been honored by the Boy Scouts of America for a good turn he performed nearly 51 years ago.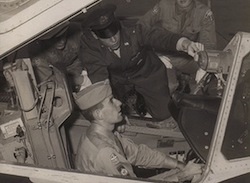 Cape Cod Baseball League Web Editor Joe Sherman is shown in the cockpit of an
F-102A Delta Dagger jet fighter in January 1959 while a member of Air Explorer Squadron 45, Otis Air Force Base. Sherman and two other former Air Explorers were recently honored for their firefighting efforts 51 years ago which received national coverage in the November 1957 issue of Boy's Life Magazine. Each of the three received a mounted reproduction of the Boy's Life page and a letter of commendation from the Chief Scout Executive of the Boy Scouts of America.
(U.S. Air Force Photo)
Joe Sherman, the league's web site editor, was one of three former Air Explorers who received special recognition at the Cape Cod & Islands Council's annual Scouters Recognition Dinner Feb. 11 at the Elks Lodge in Hyannis.

More than 150 Scouts, Scout leaders and friends of Scouting were on hand to see the council present dozens of awards to men and women who excelled as Scout leaders during the past year and to see 23 young men receive their Eagle Scout medals. The highlight of the evening came with the presentation of the prestigious Silver Beaver Award to longtime Sea Scout leader Hugh C. "Tim" Millar.

But the most unusual aspect of the evening came when the council completed some unfinished business by honoring three former Air Explorers for their efforts as volunteer firefighters nearly 51 years ago.

The trio – Sherman, of West Yarmouth and William Buckley and George Pelletier, both of East Falmouth -- were teen-age members of Air Explorer Squadron 45, Otis Air Force Base, on May 8, 1957, when they and three fellow squadron members mobilized to battle a major forest fire in Mashpee caused by the crash of a jet plane from Otis.

After that blaze was brought under control, they got word of another, much larger fire raging in the Myles Standish Reservation in Plymouth. Without hesitation, they sped to the state forest, where they were quickly put to work battling that blaze. All told, they spent approximately 20-1/2 hours on the fire lines.

"It was tough, dirty work," Sherman recalled, "and it certainly was exhausting. But, as we saw it at the time, we were simply doing our duty as Scouts.

"And seeing first-hand how the professional and volunteer firefighters brought those blazes under control has given me a unique perspective as to how important these people are in our society. Their tireless efforts certainly were an inspiration to me and my buddies, and to this day, I have great respect for all firefighters."

The following November, the trio's exploits were chronicled in a full-page "Scouts in Action" feature in Boy's Life, Scouting's national magazine. But there was no formal recognition on the local level -- until this past Feb. 11 when the three surviving members of the firefighting sextet were presented with mounted reproductions of the original Boy's Life page plus letters of commendation from Robert J. Mazzuca, Chief Scout Executive of the Boy Scouts of America.

"Getting together with Bill and Skip (Pelletier) and their wives was great fun," Sherman said of the awards night. "Being part of a Scouting event for the first time in many, many years brought back many wonderful memories for all of us. Our only regret was that Bob West, Topper Chase and Bernie Pelletier, all deceased, could not be there to share in the honor."

Sherman, a Falmouth native, is a retired journalist who spends much of his time these days handling various public relations chores for the Cape League. He is a former sports editor of the Cape Cod Standard-Times, later worked in television and radio in Worcester and on Cape Cod, and spent two stints on the editorial staff at the Boston Herald. He retired two years ago as special projects editor after a 29-year career with Brockton's daily newspaper, The Enterprise.

John Garner Jr.