League News
04/12/2009 9:12 AM
Article By:
Former Hyannis Pitcher's
Injury Mars Cape Cod League
Alumni's Great Opening Week
Two former Cape Cod Baseball League pitchers made headlines this past week, but for dramatically different reasons.

Detroit Tigers hurler Ryan Perry (Orleans '07), first-round pick by the Tigers in the '08 draft, made his Major League debut April 8 at Toronto. He worked the eighth inning, faced three batters and threw 16 pitches, eight for strikes. No one reached base as he got a ground-out, fly-out and one K. He spent his first professional season (2008) with the Gulf Coast League Tigers and Single-A Lakeland. His bio on the Tigers web site references the CCBL and Orleans.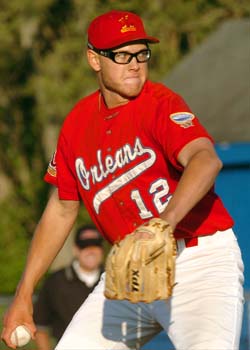 Ryan Perry
Photo by SportsPix
Another rookie pitcher, Joe Martinez (Hyannis '04) of the San Francisco Giants, suffered a concussion April 9 when he was hit by a line drive while working the ninth inning against the Milwaukee Brewers.

Martinez was making just his second big league appearance when Mike Cameron's two-out line drive struck him near the right temple. He dropped to his knees, dazed and bleeding with a swollen right eye.

"That ball was smoked," said Giants manager Bruce Bochy. "He didn't have a chance."

Giants trainers rushed to Martinez's aid and, after a few minutes, the 26-year-old Boston College product was able to walk off the field under his own power. Martinez never lost consciousness. After being checked by team trainers, he was taken to a hospital for a CT scan and evaluation.

Martinez was resting comfortably in the hospital with a concussion and hairline fractures of the right side of his face. Doctors said he was expected to make a complete recovery.

Alumni from the Cape Cod Baseball League performed well during the first week of the season. In fact, several were among their respective league's statistical leaders.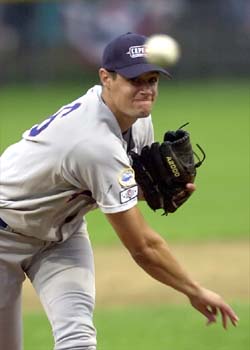 Joe Martinez
Photo by SportsPix
Cape League grads led both the AL and NL in batting. Boston Red Sox first baseman Kevin Youkilis, who played for the Bourne Braves in 2000, was tearing up the American League with a .625 batting average, while Chicago Cubs infielder Ryan Theriot's (Wareham, '00) .583 average tops the National League.

Tampa Bay third baseman Evan Longoria (Chatham 2005), who was the Cape League MVP with the Chatham A's and captured the American League Rookie of the Year Award last summer, led the AL with four home runs, while Toronto's Adam Lind (Wareham '03) was the AL leader with 11 RBI and was tied with Youkilis for second with 10 hits. Detroit's Brandon Inge (Bourne '97) was among the league leaders in home runs (3) and slugging percentage (.882). New York Yankee Nick Swisher (Wareham '00) was tied for the AL lead with three doubles, while Boston's Jacoby Ellsbury (Falmouth '04) was tied for second with two steals. Tampa Bay's Lance Cormier (Wareham '00) had a 0.00 ERA.

In the National League, the Los Angeles Dodgers' Casey Blake (Hyannis '93) shared the league lead with two homers.


ABOUT THE CAPE COD BASEBALL LEAGUE

The Cape League is recognized as the best amateur summer league in the country by college coaches, as well as professional baseball scouts. Players from around the USA and all college divisions are recruited to play in the CCBL.

The current 10-team Cape League originated in 1885 with individual town teams, reorganized into the Cape Cod Baseball League in 1923 with teams in Chatham, Falmouth, Hyannis and Osterville and is now the premier collegiate baseball summer league in the country.

With more than 1,000 alumni performing at all levels of professional baseball, a record total of 212 former Cape Leaguers populate major league rosters, including Cy Young Award winner Tim Lincecum (Harwich '05), slugging first baseman Mark Teixeira (Orleans '99), 2007 AL Manager of the Year Eric Wedge (Yarmouth-Dennis '88), AL Comeback Player of the Year Carlos Pena (Harwich '96 & Wareham '97) former Cy Young Award winner Barry Zito (Wareham '97 & '98), former AL MVP Frank Thomas (Orleans '88), former AL batting champion Nomar Garciaparra (Orleans '93), former NL Fireman of the Year Billy Wagner (Brewster '92) and New York Yankees manager Joe Giardi (Cotuit '84) and former World Series MVP Mike Lowell (Chatham '94), team captain Jason Varitek (Hyannis '91 & '93), infielder Kevin Youkilis (Bourne '00) and centerfielder Jacoby Ellsbury (Falmouth '04). all of the Boston Red Sox.

New Mexico Gov. Bill Richardson played at Cotuit in 1967 and at Harwich the next year.

The list of Cape League alumni totals more than 770 names, including Baseball Hall of Famer Harold "Pie" Traynor (Falmouth '19), former New York Yankee greats Red Rolfe (Orleans '30) and Thurman Munson (Chatham '67), former Major League managers Bobby Valentine (Yarmouth '67) and Buck Showalter (Hyannis '76), Cy Young Award winners Steve Stone (Chatham '68). Mike Flanagan (Falmouth '72) and Tim Lincecum (Harwich 2005), Firemen-of-the-Year Wayne Granger (Sagamore '62) and Jeff Reardon (Cotuit '74-76) and Major League scout Lennie Merullo (Barnstable '35).


Joe Sherman, CCBL Public Relations Department ([email protected])