League News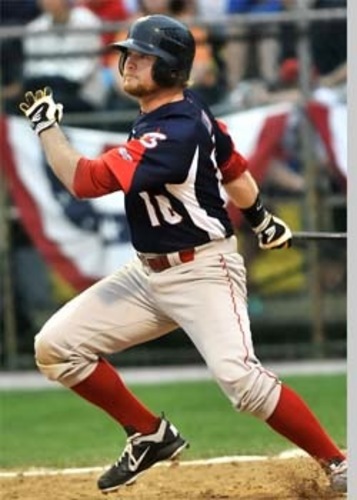 05/02/2013 3:38 PM
Article By:
With the 128th Cape Cod Baseball League season set to begin in earnest on Wednesday, June 12, Western Division teams have bulked up on pitching after last season's year of the hitter.
Bourne is one of two teams along with Brewster celebrating its 25thanniversary this season after beginning as expansion franchises in 1988. The Braves will celebrate Friday, June 21 in a home game against Eastern Division foe Brewster.
The Braves will welcome back one key player this summer in Mason Robbins (Southern Miss). The hard-hitting outfielder batted .316 for Bourne last season and should bring some veteran leadership to the team. The Braves proved themselves in 2012, beating the top-seeded Cotuit Kettleers in the first round with very few players left on the roster. Bourne General Manager Chuck Sturtevant recognizes one major key to success is staying healthy.
Among the players to watch on Bourne's roster is Ryan Kellogg, a left-handed pitcher from Arizona State. He's already pitched a no-hitter this season for the Wildcats, and Sturtevant feels he shows a lot of promise. Some other players who could make an impact are temporary players Matt Gonzalez (Georgia Tech) and Pat Kelly (Nebraska). Both have been producing offensively for their schools this spring.
Hyannis will see a whole new roster with Jeff Schalk (UAB) as the only returner from 2012. The Harbor Hawks will look to rebound after a 17-27 2012 season in which they did not make the playoffs.
Florida State, UCLA, Clemson and Indiana are all teams who will be represented on the Harbor Hawks' roster. Josh Delph (Florida St.) is hitting .287 for the Seminoles this spring, and has the potential to produce against Cape League pitching.
Last summer, the Harbor Hawks benefited from the arm of Sean Manaea (Indiana St.), who captured both the B.F.C. Whitehouse Top Pitcher Award and the Robert A. McNeece Outstanding Pro Prospect Award after going 5-1 with a 1.22 ERA and a league-leading 85 strikeouts for Hyannis. This summer, left-hander Grant Watson (UCLA) could be a huge asset to the Harbor Hawks' roster. Watson, a sophomore, is 5-3 with a 3.21 ERA for the Bruins this spring.
Western Division 2012 champion Cotuit will see three returning players at Lowell Park. Pitchers Adam McCreery (Arizona St.) and Jordan Ramsey (UNC Wilmington) both showed promise last summer and will look to thrive with Cape League experience under their belts. The Kettleers' other returning player will be sophomore catcher Aramis Garcia (Florida International), whose quick reflexes behind the plate should only help Cotuit.
As is true with most Cape League teams, the Kettleers all look talented on paper. Cotuit worked hard to bring in solid pitching for 2013, something the team felt it lacked in 2012. Freshman All-American Jordan Montgomery (South Carolina) is 3-0 for the Gamecocks with a 1.40 ERA. Other impressive pitchers fans could see in the Kettleers are Brian Miller (Vanderbilt) and John Hochstatter (Stanford). Much of Cotuit's success could depend on which pitchers end up in uniform and which don't end up making the trip to Cape Cod because they threw too many innings in the spring.
The Kettleers also hope to see offensive production from the likes of Hunter Cole (Georgia) and Joey Pankake (South Carolina), who are hitting .305 and .314, respectively, this spring.
After an intense offseason with multiple personnel changes, Falmouth and its coaching staff are looking forward to the summer. The Commodores were a bit inconsistent in 2012, starting 9-5 before dipping below .500 and ending the season 21-23. New General Manager Eric Zmuda expects each player to bring something unique this season to help the team compete in the West.
Looking at the roster, Zmuda sees the potential for more flexibility this summer with athletes who can play multiple positions on any given day. Some players to watch this summer for Falmouth include returners Casey Turgeon and Kyle Ruchim. Some newcomers that could make an impact are Cole Irvin (Oregon), Daniel Gossett (Clemson) and a current temporary player Myles Smith (Lee University). Irvin is 4-2 with a 3.18 ERA for the Ducks, and Gossett is 6-2 with a 2.56 ERA for the Tigers.
Defending CCBL champion Wareham, which set a CCBL record with 46 home runs in 2012, will look to continue its excellence into 2013. Outfielder Kyle Schwarber (Indiana) will return to the Gatemen this summer. Schwarber played a huge role in the 2012 championship team, winning the playoff MVP award, hitting .343 during the season and making the All-League outfield.
On paper, Wareham doesn't have the power bats it relied on last summer from such players as Daniel Palka and Tyler Horan, but there are plenty of guys who could provide a solid offense for the Gatemen. Mikey White (Alabama) has been hitting well for the Tide this spring and has historically hit for a lot of power. Sophomore Adam Toth (Baylor) is also a powerful athlete who can run well and has solid potential that could prove beneficial to Wareham.
The Gatemen pitching staff will have a familiar look, with the return of Jared Ruxer (Louisville), Jonathan Holder (Mississippi State) and Joe Filomeno (Louisville).
While all of these teams look deep on paper, one key to success every summer is personality. Each has the potential to take the division, and perhaps even the Arnold Mycock Championship trophy. Most GMs agree that jibing personalities is ssential for a successful season. Make sure to watch out for the incredible young talent this summer, coming soon to a field near you.