League News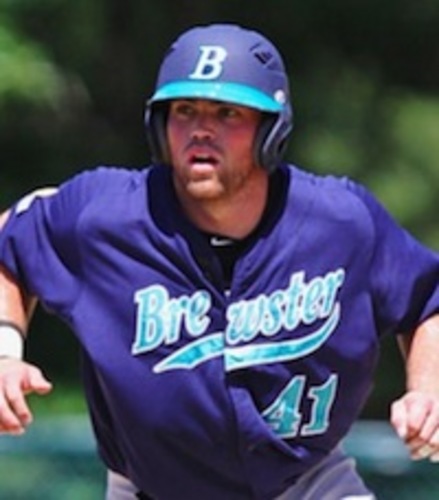 07/06/2014 6:42 PM
Article By: CCBL Public Relations Office
From Alabama's Crimson Tide to the Cape Cod Baseball League's Brewster Whitecaps to the Los Angeles Angels of Anaheim.
That's the journey catcher-first baseman-DH Wade Wass has taken in the past few months, and along the way there have been some disappointments as well as some incredible moments.
Wass, who signed a minor league contract with the Angels on Sunday as a non-drafted free agent, came to the Cape intent on proving that Major League Baseball's 30 teams made a big mistake when they ignored him in last month's First-Year Player Draft. And that's exactly what he did July 2, when he unleashed a record-setting barrage of offensive power during Brewster's 12-5 rout of visiting Wareham at Stony Brook Field.
In baseball, timing is everything and one's timing must be impeccable to drive a pitch out of any ballpark with the bases loaded. That's precisely what Wass did – not once, but twice – against the Gatemen. He also contributed a run-scoring double, giving him 10 total bases and nine RBIs, a single-game performance unequaled in Cape League history.
No CCBL player had ever hit two grand slams in a single game, nor had anyone ever driven in nine runs in one game. Wass did both and, again displaying perfect timing, he did it on national television – the opening telecast of the Cape League season on Fox College Sports Atlantic. As such, he ensured his historic feat would be witnessed by viewers across the nation and preserved forever in digital form.
Apparently, somebody in Anaheim was watching, because the Angels reacted quickly, making Wass an offer he couldn't refuse. The 22-year-old accepted the Angels' deal, then headed west to formally sign his contract and embark on his professional career. Official announcement of the signing was made Sunday in Anaheim, where the Angels were hosting Houston.
Wass confirmed that he was contacted by several teams, but chose the Angels because they "had the biggest need at catcher." He will begin his pro career with the Orem (Utah) Owlz, the Angels' entry in the rookie Pioneer League.
Wass had played just 12 games for the Whitecaps, departing with a batting line of .268/.319/.537, including two doubles, three home runs and a team-high 18 RBIs. But the results of his brief stay will be inscribed in the Cape League record books forever.
Wass was both angry and disappointed when the three-day amateur draft concluded June 7. Over 40 rounds, 1,215 players were selected, but not Wass. So his record-setting display of power and his subsequent signing provided sweet vindication for the player who had been drafted in the eighth round out of junior college, but decided to transfer to 'Bama, hoping a big year there would lead to a higher draft position as a junior.
This time, his timing was terrible as anything that could go wrong, did. In a spring scrimmage, he was hit by a pitch and suffered a broken ankle. After surgery and five weeks of rehab, he returned to the team, but was relegated to the bench.
Finally after getting into a game as a pinch-hitter against Tennessee, he broke his wrist on the only swing he took all year. Another operation followed, then a summer of rehab work before he reported for fall practice. His knee was giving him trouble, so he had it scoped, costing him more time on the bench before he finally was declared fit and won the job as the Tide's cleanup hitter.
Splitting his workload between DH and catching, he had a solid if unspectacular 2014 season, starting 22 of the team's 23 games, batting .265, driving in 14 runs and leading the team in doubles with nine. Because of his history of injuries and an uninspiring junior season, none of baseball's 30 teams was willing to risk a draft choice on the 6-foot, 215-pound former prospect.
But that all changed July 2 in Brewster when Wass landed a spot in the Cape League record books, excited a nationwide television audience and at last earned a job in pro baseball.
HACK'S STATS – CCBL statistical guru Bruce Hack tells us that Wass' nine-RBI game broke a 51-year-old record that had been tied twice. On Aug. 11, 1963, Wayne Upton of Bourne had eight RBIs in a game against Otis Air Force Base. Upton's mark was tied by Charlie Malitz of Chatham on June 27, 1965, against Falmouth, and again by Scotti Madison of Hyannis on July 4, 1979, at Cotuit … Although Wass was the first to hit two grand slams in one game, seven players have had two slams in the same CCBL season. That list includes Ryan Cuneo of Hyannis in 2009, Tony Sanchez of Y-D in 2008, Carlos Pena of Wareham in 1997, Alex Morales of Falmouth in 1994, Clint Thompson of Hyannis in 1986, Clay Boone of Orleans in 1983 and Tim Teufel of Cotuit in 1979. Cuneo's two slams came off the same pitcher – Y-D's Kevin Rhoderick – on July 5 and again on Aug. 1.