League News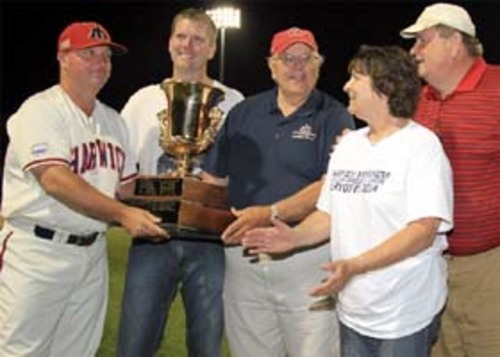 08/07/2014 1:01 PM
Article By:
After clinching first place in the Cape Cod Baseball League's East Division, the Harwich Mariners had set their sights on next capturing the Arnold Mycock Trophy, which goes to the team that wins the last game of the postseason playoffs.
But on Wednesday night, they were pleasantly surprised to receive another impressive piece of hardware when Commissioner Paul Galop strolled onto the field prior to their 7-2 opening-series playoff victory over Brewster to present the 2014 Commissioner's Cup in recognition of Harwich's organizational excellence on and off the playing field.
"It was a unanimous choice by all five commissioners," Galop said. "It goes without saying that the Mariners' professionalism and community involvement was exemplary. Their coaches and players performed with exceptional skill, as shown by their 26-16-2 record, and they fulfilled all of their obligations to the league in a prompt and expeditious fashion."
Galop lauded the efforts of Harwich President Mary Henderson, Manager Steve Englert and General Manager Ben Layton for "providing a wholesome and rewarding experience for their players and fans," and he gave particular credit to Layton. "Ben steered the ship," the commissioner said.
Harwich drew nearly 28,000 fans to Whitehouse Field this summer, averaging just more than 1,300 spectators per game, to place third in the league in regular-season attendance.
"It's a great honor for us," Layton said moments after accepting the Commissioner's Cup. "Mary Henderson does an outstanding job running this organization and Steve always runs a tight ship from the dugout while allowing his players to have fun playing baseball.
"It's been a great season so far, being in first place all but three or four days, and we hope it continues."
The Mariners ended a four-year Bourne-Wareham domination that saw both West Division franchises win two Commissioner's Cups. Yarmouth-Dennis, the cup winner in 2009, is the only other East Division team to have won. Other past winners include Hyannis, Cotuit and Falmouth, which shared the inaugural Commissioner's Cup with four-time winner Wareham in 2004.
Participating in the selection process with Galop were Senior Deputy Commissioner Sol Yas and Deputy Commissioners Peter Hall, Bill Bussiere and Mike Carrier. The latter two deputies know what it's like to accept a Commissioner's Cup. Bussiere won it as the first-year general manager of the then-Hyannis Mets in 2008, and Carrier won twice, as Bourne's GM in 2005 and 2010.
COMMISSIONER'S CUP HISTORY
2014 Harwich
2013 Bourne
2012 Wareham
2011 Wareham
2010 Bourne
2009 Yarmouth-Dennis
2008 Hyannis
2007 Wareham
2006 Cotuit
2005 Bourne
2004 Falmouth & Wareham