League News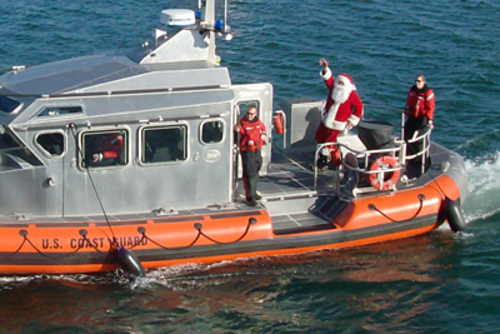 12/09/2011 3:47 PM
Article By: CCBL Public Relations Office
What does a CCBL field announcer do off season to keep the crowd going?
He becomes Santa!
Say hello to Jim Nowak, the voice of the Brewster Whitecaps. And becoming Santa is what he did recently with some help from the U.S. Coast Guard based in Chatham.
Santa landed his "sleigh" on Chatham's North Beach where the Coast Guard picked him up and delivered him to the Chatham Fish Pier where he did what Santa does best; put smiles on the faces of young and old alike.
After landing at the Fish Pier and handing out over 150 candy canes to the baseball - loving crowd, Jolly Saint Nick hopped on a big red fire truck and rode to the Chatham Community Center, located next to Veterans Field, home of the Cape Cod Baseball League's Chatham Anglers.
Even though it was early December, you could almost smell the hot dogs cooking at the concession stand. .
Santa then visited with the kids and handed out gifts.
Now, as Santa said, "Come on snow let's get it over with so we can start another season of baseball."