League News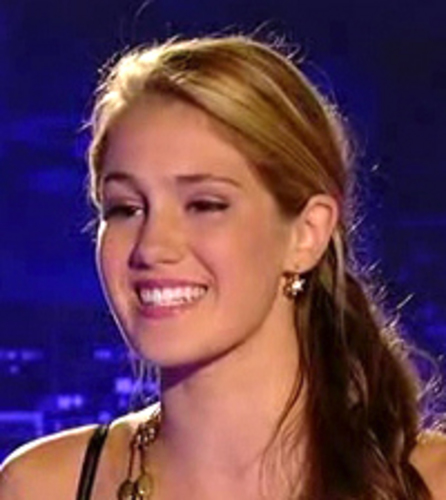 02/27/2012 5:03 PM
Article By:
She stands 6 feet tall in her stocking feet, wears size 11 shoes, plays high school volleyball and can belt out a song with the best of them.
She's just 16 years old, but has a voice and singing style that's going on 30.
And Wednesday (2/29) night in Hollywood, she'll be performing live on national television as one of 25 hopefuls for the title of 2012 American Idol.
She is Shannon Magrane, daughter of Cape Cod Baseball League Hall of Fame southpaw hurler Joe Magrane and his wife Renee, both of whom will be in the studio audience Wednesday to cheer her on for Idol stardom.
Shannon breezed through preliminaries which started last August in Savannah, Ga. Her soulful rendition of Etta James" "Something's Got a Hold on Me" earned her a "golden ticket" to Hollywood, one of 309 tickets handed out by Idol judges Randy Jackson, Steven Tyler and Jennifer Lopez at auditions across the country.
The Savannah segment aired on the Fox network on Jan. 18 as the show returned to the air waves for its 11th season of weeding out pretenders and bringing talented newcomers to the attention of America's television viewers.
After Savannah, the Idol road show made stops in Pittsburgh; San Diego; Denver/Aspen, Colo.; Houston/Galveston, Texas; Portland, Ore.; St. Louis, and finally East Rutherford, N.J., sifting through thousands of singers and finding what Jackson called "the best talent I've ever seen on the show."
Next came three elimination rounds in Pasadena, Calif., where two-thirds of the contestants didn't survive the first wave of cuts and 28 more were eliminated before judges settled on the top 70 who would advance to the challenge round in Las Vegas.
There, on the Winn Casino's Le Reve stage, they performed songs from the late 1950s in groups of three and four, followed by a solo "sing-for-your-life" round designed to give the judges a final chance to evaluate each remaining hopeful.
The solo performances of those remaining 42 vocalists reduced the field to the 25 who would return to Hollywood for the live elimination telecasts that will culminate in the crowning of the 2012 "American Idol."
Shannon breezed through Hollywood Week, although she had an anxious moment when she forgot the lyrics during a group performance. She hummed along, quickly caught up and never missed a note thereafter. And what happened in Vegas couldn't have worked out better for the Tampa, Fla., teenager as she continued to impress the judges, her fellow contestants and millions of Idol TV fans across America.
Her final solo would have given Louis Armstrong himself goose bumps as she put everything she had into a triumphant rendition of "What a Wonderful World." As she hit the final note, many of her fellow contestants jumped up and applauded, while Jackson, Lopez and Tyler rose as one in a standing ovation.
Shannon is a long way from her Tampa home and a long way from Cape Cod, where as a 13-year-old she electrified a Chatham Bars Inn audience singing the national anthem prior to her father's induction into the Cape League Hall of Fame in November 2009. Large audiences are nothing new to her either, as she has performed the Star Spangled Banner several times prior to Tampa Bay Rays' home games.
But now, as her dad would say, it's a whole new ball game. It remains to be seen whether this teen singing sensation can overcome the butterflies, ignore the glitz and glamor of Hollywood and remain focused on her ultimate goal – being crowned 2012's American Idol.
-ccbl-