League News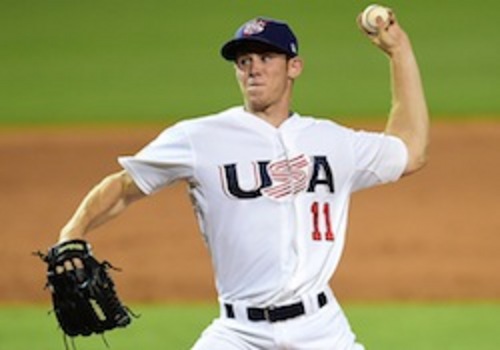 06/09/2015 8:02 PM
Article By:
Seventy-five high school and college baseball players were selected Monday night as Major League Baseball's 2015 First-Year Player Draft opened with the first and second rounds played out before a national TV audience.
It's the seventh consecutive year that the draft's first two rounds have taken place in Studio 42 of the MLB Network's complex in Secaucus, N.J.
Using a conference call system, the 30 big-league teams made their selections in Rounds 3 through 10 on Tuesday; the draft concludes Wednesday with the final 30 rounds.
It was a spectacular night for the Cape Cod Baseball League as 25 of its graduates were among the 75 players drafted. That's one-third of the total in the top rounds. But the full story actually is much more impressive. Of the 75 players chosen, 37 were high school athletes, not yet eligible for the Cape League, and 38 were college players. Only 13 of those 38 did not play on the Cape, although two of them, shortstops Dansby Swanson of Vanderbilt and Alex Bregman of LSU, drafted No. 1 and No. 2, respectively, had agreed to play here last summer before being lured away by Team USA.
Swanson, taken first by the Arizona Diamondbacks, was on the Orleans Firebirds' 2014 preseason roster, while Bregman had committed to play in Harwich. A third non-Cape Leaguer, Boston's lone first-round pick, Arkansas outfielder Andrew Benintendi, was listed on this year's Falmouth preseason roster and could still join the Commodores if he and the Red Sox can't come to terms.
Factoring in that trio, the Cape League could claim ties to 28 of the 38 college players drafted – a stunning 74 percent share. Discounting the Swanson-Bregman-Benintendi trio, the Cape League still accounted for a solid 66 percent share of all collegians drafted.
After Swanson and Bregman were taken by the Diamondbacks and Houston Astros, respectively, the Colorado Rockies chose a third consecutive shortstop, Florida high schooler Brendan Rodgers. Next came UC Santa Barbara right-handed pitcher Dillon Tate (by the Texas Rangers), followed by another high school star from Florida, outfielder Kyle Tucker (Houston's second pick among the top five).
At No. 6 was the 2015 draft's first Cape Leaguer, Illinois southpaw Tyler Jay (Y-D, 2014), who pitched briefly for the Red Sox before leaving to join Team USA. Jay had a 1.93 ERA in three appearances at Y-D, then went 2-0 and did not allow an earned run in 15 appearances for the national collegiate team.
After Boston took Benintendi and the Chicago White Sox chose Vanderbilt right-hander Carson Fulmer, it was time for the Cape League's fantastic run to begin. With the ninth pick in the draft, the Chicago Cubs selected switch-hitting Cincinnati outfielder Ian Happ (Harwich, 2013-14), and from this point on, every collegian taken in the first round was a Cape League alum.
Happ was followed by six consecutive high school players at positions 10 through 15 before the New York Yankees chose UCLA right-hander James Kaprielman (Y-D, 2013). The Cleveland Indians then selected last year's No. 1 draft pick, Brady Aiken, a high school left-hander who failed to come to terms with Houston because of health issues. Three straight Cape Leaguers followed – Southern Nevada right-hander Phil Bickford (Y-D, 2014) by San Francisco; Arizona shortstop Kevin Newman (Falmouth, 2013-14), the only back-to-back batting champion in Cape League history, by Pittsburgh; and Florida shortstop Richie Martin (Falmouth, 2013; Bourne, 2014), taken by the Oakland A's with pick No. 20.
From this point on, the Cape League was on a roll. Eight of the next 16 players selected were collegians, all of them Cape League graduates. Here's the list:
No. 24, Los Angeles Dodgers: Vanderbilt right-handed pitcher Walker Buehler (Y-D, 2014).
No. 25, Baltimore Orioles: Florida State outfielder D.J. Stewart (Y-D, 2013).
No. 26, Los Angeles Angels: Fresno State catcher Taylor Ward (Orleans, 2014).
No. 29, Toronto Blue Jays: Missouri State righty Jon Harris (Harwich, 2014).
No. 30, New York Yankees: San Diego shortstop Kyle Holder (Cotuit, 2014).
No. 31, San Francisco Giants: Boston College first baseman Chris Shaw (Chatham, 2014).
No. 34, Detroit Tigers: Tennessee outfielder Christin Stewart (Orleans, 2014).
No. 35, Los Angeles Dodgers: Louisville righty Kyle Funkhouser (Chatham, 2013).
Five of the six Competitive Balance "A" selections were high school players and the lone collegian chosen – Virginia southpaw Nathan Kirby, selected by the Brewers -- had not played on the Cape.
When the second round of selections began, Arizona opened by choosing Texas Christian left-hander Alex Young (Falmouth, 2014) at No. 43 overall. Seven more Cape League grads followed. They were as follows:
No. 47, Chicago Cubs: North Florida outfielder Donnie Dewees (Hyannis, 2014).
No. 48, Philadelphia Phillies: Arizona second baseman Scott Kingery (Brewster, 2014).
No. 55, Milwaukee Brewers: Cal Poly Pomona righty Cody Ponce (Brewster, 2014).
No. 58, Washington Nationals: LSU outfielder Andrew Stevenson (Y-D, 2014).
No. 62, Pittsburgh Pirates: UCLA shortstop Kevin Kramer (Orleans, 2013).
No. 63, Oakland A's: Alabama shortstop Mikey White (Brewster, 2014).
No. 64, Kansas City Royals: Azusa Pacific righty Josh Staumont (Y-D, 2014).
Fifteen high school players and 13 collegians went in the second round. Eight of the latter were Cape League graduates. Five Competitive Balance "B" selections followed, with college players filling all of the slots. Included were three Cape Leaguers:
No. 73, Minnesota Twins: Kentucky righty Kyle Cody (Wareham, 2013-14).
No. 74, Los Angeles Dodgers: Virginia righty Josh Sborz (Orleans, 2014).
No. 75, Atlanta Braves: Texas A&M lefty A.J. Minter (Cotuit, 2014).
Last year, 21 Cape League players were drafted in the first two rounds. Overall, the '14 draft saw 214 players from the Cape League selected, far short of the record for a 40-round draft, which is 229 in 2012. The all-time record is 258, established in 2011 when the draft lasted 50 rounds.
Jay's selection at No. 6 is the lowest position for the first Cape Leaguer in the draft since 2011 when Houston chose George Springer (Wareham, 2009-10) with the 11th overall pick. Last year, Kyle Schwarber (Wareham, 2012-13) was taken by the Cubs with the fourth pick and in 2013 the Astros made right-handed pitcher Mark Appel (Y-D, 2011) the very first player chosen.