League News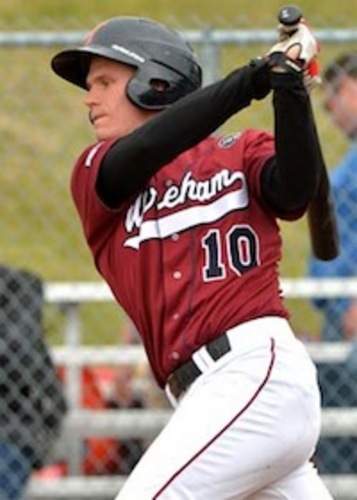 06/19/2015 5:02 PM
Article By:
Growing up just 30 minutes away from Wareham, David MacKinnon always dreamed of playing in the Cape Cod Baseball League.
MacKinnon's dream came true June 9 as he donned a Wareham Gatemen jersey for the first time. A rising junior from the University of Hartford, MacKinnon was tied for the Cape League lead in batting average at .385 through Thursday's action. Conversely, after seven games in his 2015 season with the Hartford Hawks, MacKinnon was batting .280 and struggling to find hits.
"The pitching (here) challenges you to get better," he said. "After the whole entire college season getting into a groove, then you come to play summer ball (and) you have so many at bats under your belt already that it's easier to start hitting well at the beginning of the summer season."
MacKinnon likes to steal bases, something rather uncommon for a first baseman. But for MacKinnon, who finished his season at Hartford with seven, it's not the baseball training that allows him to have the agility and speed to get around the bases quickly. Rather, it's soccer conditioning that keeps him in shape. He is a two-sport Division I athlete and the Hawks' starting goalkeeper in men's soccer.
"The starting and stopping, which has helped with stealing bases and getting a good jump, I'd say that's more the goalkeeping (conditioning) because you have to be jumping off your line to catch a ball or jumping to the side to make a save," MacKinnon said. "Being able to start and stop quick would attribute to the stolen bases."
Although he originally attended Hartford solely for baseball, "the soccer just worked out," MacKinnon said. Starting 18 games as a freshman goalkeeper in 2013, he holds the record for the most single season shutouts as a keeper with nine. At 6 feet tall and 200 pounds in net, he led the Hawks to an 11-6-2 overall record with seven shutouts last season, and also was named to America East All-Rookie teams in both soccer and baseball.
MacKinnon wants all aspiring two-sport athletes to stick with it in college. It's a juggling act to play varsity athletics in two sports and keep up with academics, but "it's possible," he said. "Most people say it's not, especially (at the) Division I level, but it's definitely doable. Don't give up (the sports) until you have to."
MacKinnon will enter his third year as first baseman and goalkeeper for the Hartford Hawks in the fall. But for now, he continues to pursue his dream of playing pro baseball while proudly sporting the Wareham uniform.