League News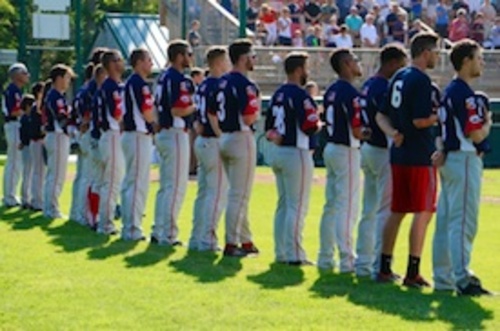 06/26/2015 2:56 PM
Article By:
Seven games into the Cape Cod Baseball League season, the Bourne Braves weren't where they wanted to be at 0-6-1. They looked to newcomer Nick Jensen-Clagg (Kent State), a 6-foot-1, 180-pound pitcher, to help turn their season around.
Jensen-Clagg delivered, helping the team to its first win of the season on June 16 in a 4-2 victory over the Brewster Whitecaps. And it didn't end there. Jensen-Clagg leads the league in strikeouts with 16, just ahead of teammate Keegan Akin (Western Michigan) with 15 K's. Jensen-Clagg attributes his success to the effectiveness of his changeup.
"That's my best pitch," he said. "I've just been trying to control that, get ahead of the count and just be aggressive."
Offensively, the Braves have outscored their opponents 26-12 during a five-game winning streak that began with that first victory.
"We're getting timely hits," pitching coach Jordan Tabakman said. "We're finding ways to score runs."
Braves outfielder Ryan Boldt (Nebraska) has reached base in 11 out of 14 games. Batting .291, Boldt sits in the No. 7 spot in the league for batting average.
Other contributors to the Braves' offense are Reid Humphreys (Mississippi State) and Vince Fernandez (California Riverside). Humphreys is tied for the Cape League lead in home runs with two while Fernandez is tied for second place in the league with six RBIs.
"We have to improve a lot defensively," Tabakman said. "But we're going to get our work in, infield and outfield, covering bases and fielding ground balls. (Our) pitchers are going to keep doing what they're doing. (We're) just giving our offense a chance to win the game."
At 6-7-1, the Braves host the Brewster Whitecaps tonight at Doran Park at 6 p.m.