League News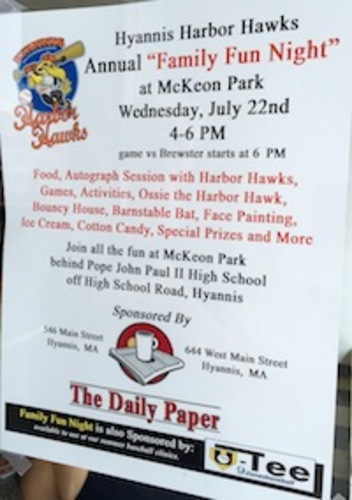 07/20/2015 5:39 PM
Article By: Tori Cotnoir
Looking for fun, free activities for you and your family? Look no further than McKeon Park in Hyannis.
Family Fun Night is on tap for Wednesday, July 22, at 4 p.m., prior to the start of the Hyannis Harbor Hawks' home game against the Brewster Whitecaps at 6 p.m.
Activities include autograph sessions with the Harbor Hawks, a meet and greet with Ossie the Harbor Hawk as well as representatives from the Barnstable Bat Co., a bouncy house, face painting, ice cream, cotton candy and other food and beverages, and special prizes!
Family Fun Night with the Harbor Hawks is sponsored by The Daily Paper and U-Tee.