League News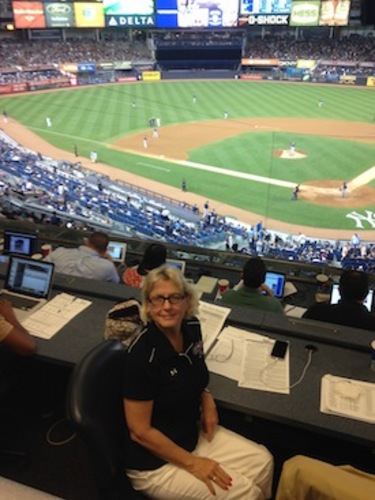 09/09/2015 4:45 AM
Article By:
She waited 45 years for it to happen, but Judy Walden Scarafile finally got to watch a game from the Yankee Stadium press box.
The very satisfying moment occurred Friday night, Sept. 4, as the Yankees opened a weekend series with Tampa Bay at the big ballpark in the Bronx. The Scarafiles – Judy and husband Peter – were there as guests of the Yankees, an invitation that was graciously extended after word reached New York that the president of the nation's premier summer collegiate league would be stepping down this fall after 24 years on the job.
"We thought that having Judy Walden Scarafile and her husband, Peter, as our guests at Yankee Stadium would be an appropriate way to honor her 45 years of service to the game," said Michael Margolis, the Yankees' assistant director of baseball information and public communications. "The Cape Cod (Baseball) League has been an important steppingstone in the development of many Yankees, and we salute her efforts in both preparing these players and nurturing a wonderful summer tradition that baseball fans have enjoyed for decades."
In July 1970, as a recently hired writer-scorer for the Cape League, Judy Walden was forcibly removed from the press box after she arrived to cover the first in a series of all-star games between the Cape League and the Atlantic Collegiate League. The fact that the Cape stars won the game 6-3 did little to console the disappointed young reporter, who was told that no woman had ever been permitted in the stadium press box and she was not going to be the first.
But on Friday, her reception couldn't have been more warm. She and Peter were welcomed with open arms by the Yankees, who provided field passes which enabled the Cape League's first couple to watch batting practice, meet and have photos taken with several former Cape League players on both teams, then adjourn to the press box, where, unchallenged, they settled in to watch the Yankees win 5-2 as their closer – and Cape League Hall of Famer – Andrew Miller (Chatham, 2004-05; Class of 2012) recorded his 30th save of the season.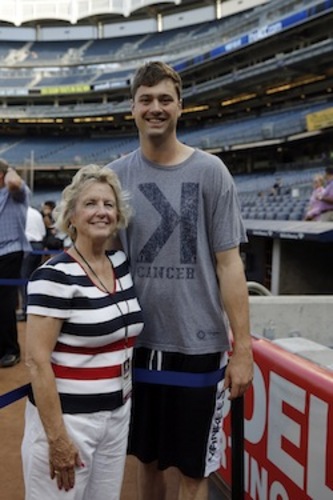 Prior to 2015, Miller's previous career-high mark for saves in a season was one, recorded last year with the Baltimore Orioles. This year, the 6-foot-7 left-hander has posted a 1.84 ERA and has struck out 75 batters while allowing only 25 hits. His 96.8 percent (30-for-31) save conversion rate is the highest among all American League relievers with at least 30 save opportunities.
Miller was one of several players whom the Scarafiles met and chatted with prior to the game. They also spent time with New York manager Joe Girardi (Cotuit, 1984) and Tampa Bay's all-star third baseman Evan Longoria (Chatham, 2005), among others. A check of the two teams' rosters showed some 20 names of former Cape League players, including both managers – Girardi and Rays rookie skipper Kevin Cash (Falmouth, 1999).
Friday's visit to the Big Apple was the highlight of a whirlwind weekend for Judy and Peter, who were in Pawtucket, R.I., Thursday night to see the Triple-A Pawsox beat Rochester 5-4 and in Fishkill, N.Y., on Saturday to watch the Hudson Valley Renegades play the Aberdeen IronBirds in a New York-Penn League game, which followed the induction of longtime scout John Kosciak into the Professional Baseball Scouts Hall of Fame.
Kosciak, a native of Milford, Mass., and a longtime friend of the Cape League, has been a scout for more than 35 years, evaluating talent for the Philadelphia Phillies, San Diego Padres, Los Angeles Dodgers, Houston Astros and now the Pittsburgh Pirates. Several Kosciak signees are playing in the major leagues today, including Houston outfielder George Springer (Wareham, 2009-10) and pitcher Nick Tropeano (Cotuit, 2010) of the Los Angeles Angels of Anaheim.