League News
06/22/2016 12:02 PM
Article By:
Terry Moran and his daughter, Darci Moran, waited patiently next to the dugout sporting their clean, white aprons with the other teams of dads and their sons and daughters. One by one, each duo was called to take their spot at the red-and-white-checkered table behind home plate. The pies were laid out, contestants focused and cameras ready for the signal to start. And then it was time, go! Through the cheers and chants of the crowd it was a tight race, but ultimately Terry and Darci Moran ate until they were blue (berry) in the face to a first place finish.
Lowell Park hosted the Cape Cod Baseball League's first Father's Day blueberry pie eating contest on Sunday, June 19, before the Cotuit Kettleers took on the Hyannis Harbor Hawks. Ten father-son/daughter teams competed to see who could get to the bottom of their pie plate first. The event was generously sponsored by Centerville Pie Company.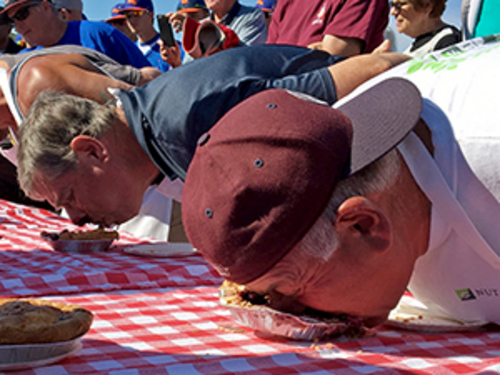 Terry Moran, housing director for the Cotuit Kettleers, said it was "a bit filling" being one of the first pie-eating champions. He was simply working on projects around his house on Father's Day until Darci came to visit. He did not expect to end the day as a champion but said it was "the goal."
"I don't think we'll need dinner tonight," said Darci Moran with a laugh.
Terry and Darcy Moran received lots of Cotuit Kettleers prizes for their win such as two 2016 yearbooks, a set of baseball cards, a baseball signed by the team, and were interviewed on the air by WEEI 96.3 FM during the third inning. Additionally, they each received a large pie of their choice from Centerville Pie Company.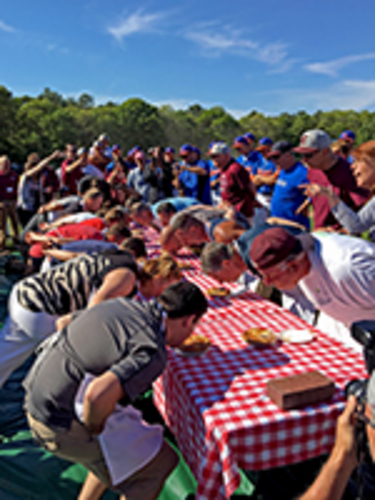 One father and son duo who gave the first place team a run for their money was Mark Bruce Silvio and his son, Bill Silvio. But one of them had no idea what he was getting himself into.
"We had a lobster roll right before this so this was dessert," said Mark Bruce Silvio, as he wiped the blueberry stains from his face.
"I surprised him. I said we have a dessert planned but I'm not going to tell you what it is," said Bill Silvio. Mark Bruce said he was expecting an ice cream cone, but he received far more that. They both got a memory their whole family will remember.
Don Gibbs and his daughter, Maya Gibbs, spent their Father's Day at the beach until going to Lowell Park for their first Kettleers game and a little friendly competition.
"Oh, I think I'd win," Don Gibbs quickly responded when asked who would win if he and his daughter were competing against each other. Maya Gibbs confidently agreed with him while joking if she would even finish.