League News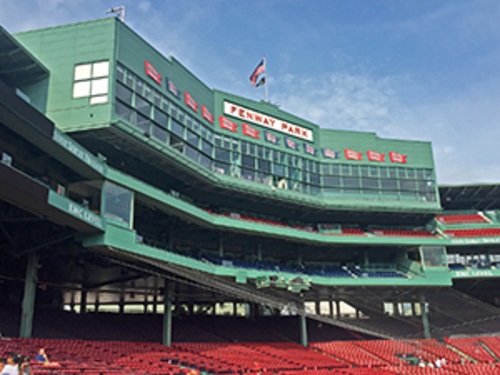 07/07/2016 3:09 PM
Article By:
As the sun rose and the dew was still burning off the field, Cape Cod Baseball League players were in full swing on Thursday morning at Fenway Park for the league's annual workout at the home of the Boston Red Sox.
Members of all 10 Cape League teams completed a multitude of drills, including the 60-yard dash, infield and outfield drills, batting practice and—for pitchers—a stretching and workout routine.
The Brewster Whitecaps and Hyannis Harbor Hawks were the first teams on the field, boarding the bus at 6 am for an 8 am arrival. Following those two squads were the Cotuit Kettleers and the Orleans Firebirds. The Bourne Braves and the Chatham Anglers were in the third time slot, followed by the Harwich Mariners and Wareham Gatemen. The Yarmouth-Dennis Red Sox and Falmouth Commodores rounded out the day.
CCBL Commissioner Paul Galop was in attendance, and he discussed the importance of the event for the league's players and the scouts in attendance. "It gives the players a chance to come out and show what they can do on a big league field, and the scouts have an opportunity to see each and every player in one day, rather than having to travel to one game at a time." Galop also stated that the event turns out to be one of the most-attended events for the league, along with the all-star game and the league playoffs. By his count, more than 900 parents, friends, family members and league officials were on the guest list for Thursday's workout.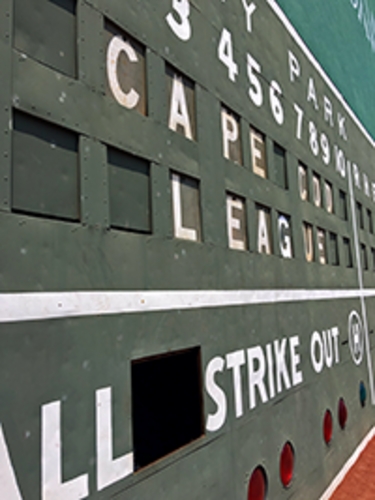 Scouts and representatives from a plethora of Major League teams were in attendance, packing the stands in search of future stars. In speaking with one scout at the event, he said that the primary goal of the day is to evaluate a player's raw tools: speed, power, defensive abilities and arm strength. "We use that to jump start the scouting process, then we watch them in-game to evaluate the tools within situations," he said. "It makes it a lot easier with having a lot of players in one venue."
The order of events for each team began with the 60-yard dash. After the running was out of the way, both teams' fielders had a chance to show off their defensive prowess with infield and outfield drills. Finally, the position players had a chance to grab the bat and take some cuts on the hallowed ground that is Fenway Park. Many players added new dents to the Green Monster, while some launched balls into the seats of it, but each hitter had a chance to show Major League scouts what they were capable of.
Hyannis's Jordan Rodgers was one of the first to blast one over the famed wall in left field, although he was far from the last. When asked what it was like to take batting practice at Fenway Park, Rodgers answered immediately that it was "a dream come true." He went on to say, "We grew up watching these people, it's crazy [to be out here]. It's everyone's goal [to homer over the Green Monster], and I peppered the wall a couple of times. Then coach threw me [one I could hit out] and I got every bit of it so it was awesome."
The day was a nice change of pace from the hectic schedule that remains going into the all-star break, said Brewster manager Jamie Shevchik. "I think it's a good break, it kind of breaks up the first couple weeks of these guys playing every day," he said. Shevchik was also excited for his players, saying: "Some guys have never been to the northeast, or to Fenway Park, so they're seeing this [field] for the first time. Having the opportunity to work out here is probably something that they'll never forget."
Matt Davis, of Brewster, was also thrilled with the opportunity that was presented on Thursday. "The important part is to come out here and have fun, it's an experience that most of us might not have the opportunity to have later on in our career," he said. "There's a lot of scouts here, but you just have to forget about that and come out here and have fun and enjoy the experience." It was Davis's first time at Fenway, although it wasn't his first time on an MLB diamond as he has played at Minnesota's Target Field previously. "It's cool getting to take batting practice on a big league field, especially one with so much history on it," said Davis.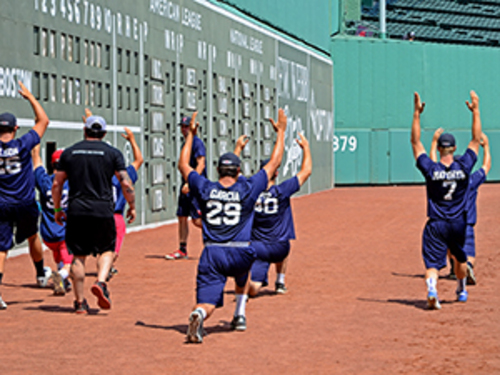 Although the pitchers didn't throw on Thursday, they were still kept busy by Eric Cressey, of Cressey Sports Performance. "The goal was to make today more educational for the pitchers, since originally it was going to be a low-key day for them," said Cressey. "What we're doing is taking them through a sample warm-up for pitchers and trying to relate it back to some of the adaptations that we see in the throwing shoulder and elbow over the course of a season. We're not trying to overhaul anybody's approach, but maybe expose them to some different methodologies and if they take a couple exercises away from it, it can help them with their routines moving forward."
Noted CCBL enthusiast and MLB Network analyst Peter Gammons also dropped in on the event, one that he has frequented many times over the years. "I think the best thing is just how much fun the kids have being here," said Gammons. "They're out here trying to hit balls over the wall and this place is so storied in its ways and for the kids to be able to come here and work out all day is a special opportunity." Gammons also reminisced about current MLB players coming up to him and telling him how they remembered first meeting him at the Cape League workout at Fenway.
After having a chance to perform in front of scouts at Fenway Park on Thursday and in games throughout the season, perhaps players from the Cape League class of 2016 will be able to reminisce with Gammons themselves at the Major League level like many Cape Leaguers before them.