League News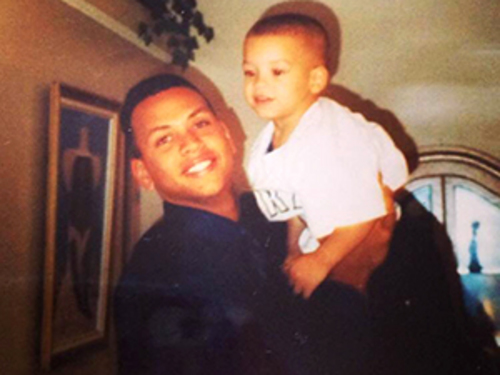 07/14/2016 1:32 PM
Article By:
Joe Dunand, who is spending his summer playing for the Harwich Mariners, has a strong baseball pedigree in his family and one of the legends of the game just one phone call away.
Dunand is the nephew of New York Yankees star Alex Rodriguez, and the two share a close bond over baseball. "It's awesome [to have Rodriguez as an uncle]," said Dunand. "I have the biggest encyclopedia for baseball to help me out whenever I need him and it's a great resource to have."
"He's just one phone call away," Dunand elaborated. "When I'm struggling or anything, I can just call him and we can talk for hours about anything and he's always there for me."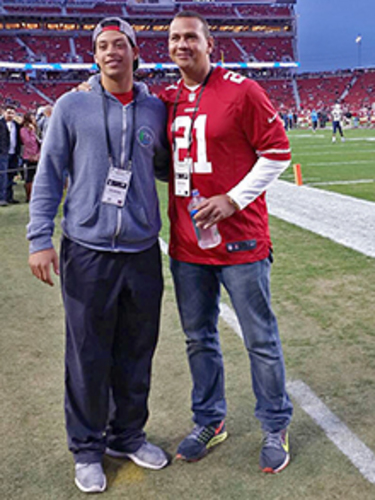 Once people find out that Rodriguez is his uncle, Dunand said he gets questioned about it constantly. "[I hear about it] all the time," he said. "I guess it comes with the territory, it's not a bad thing though."
Even though he doesn't mind the comparisons to his famous uncle, Dunand is working on making a name for himself. The rising junior has earned a new nickname this summer from his teammates and coaches: "Smooth." When asked where the moniker came from, he explained that, "my mannerisms on the field led to them calling me 'Smooth'. The way I play, the way I throw, the way I take ground balls and the way I swing."
Dunand's smooth play has been effective to date, as he is putting up stellar numbers at the plate thus far. In 20 games of action, the North Carolina State infielder is batting .338 and getting on base at a .407 clip. He credits his hard work with his early season success, saying, "I just come out here and do my thing every day. I work hard and do what I can do [to get better]. Normally I wake up, go workout, run, come to the field to hit and prepare myself for the game later on."
Dunand has long had success of his own, being drafted in the 35th round by the Cleveland Indians out of high school. "It's awesome to be drafted, and it's a great feeling to be picked for your abilities and your talents," said Dunand when asked about the experience of being selected in 2014.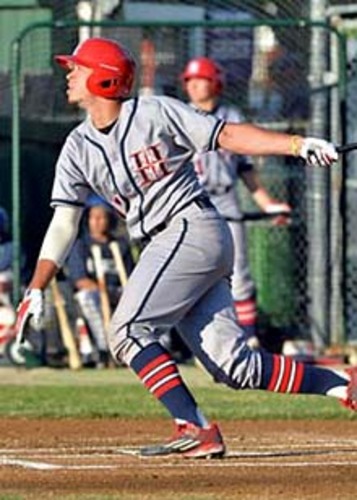 Although he has played shortstop for much of his career, Dunand projects as a third baseman in the future—a position that he has appeared at 16 times in 20 games on the Cape. "I play shortstop at NC State, and I enjoy playing shortstop more, but I think I'm more of a natural third baseman so in my future I'll probably make the move to third base," he said.
The position change hasn't hampered his offensive abilities, as he ranks among the top three hitters on the team in nearly every offensive category. Dunand began the season on a tear, recording a hit in each of his first seven games. He has been held hitless just four times in 20 games and has eight multi-hit games to date. The infielder also leads the team in slugging percentage and is second in on-base percentage, both products of his red-hot start to the season. "It's very important [to start well], you want to just keep riding the wave [from the college season]," he said. "A hot start is important for whatever league or wherever you go and I've just got to stay focused and keep doing my thing and working hard."
He has just one home run this season in Cape Cod Baseball League play, but Dunand has showcased power in his past. Last year, he was invited to participate in the TD Ameritrade College Home Run Derby in Omaha. He belted six home runs in the opening round, but that wasn't enough to advance him further in the competition. Regardless, he said the experience was one that he will never forget. "It was a lot of fun. It was a great group of guys, and just to go out there and compete and have fun was a great experience. To actually go to Omaha, see the environment and see the field was incredible. It'd be cool one day to go there with [NC State]."
Although he hopes to improve his draft stock with a strong season on the Cape, Dunand is soaking in the opportunity he has this summer. "It's great here, the weather is awesome basically everyday. It's a great group of guys here and everyone fits in so well and so quickly. Every game is a new experience and it's great competition so it's just awesome to be here competing with all of these guys."