League News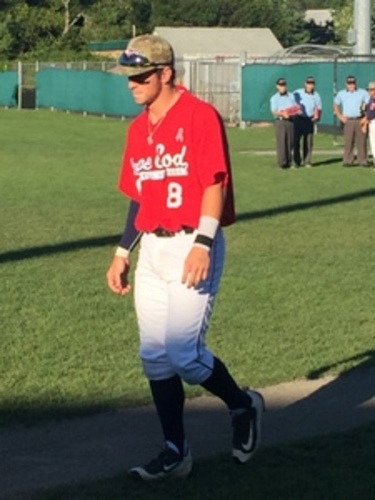 08/06/2016 8:36 PM
Article By:
You don't have to be a power hitter to have power numbers. Cole Freeman (LSU) of the Wareham Gatemen finished the regular season with a staggering batting average of .374. It was the highest in the Cape Cod Baseball League and 21 points ahead of second place Ernie Clement of the Harwich Mariners. On Friday night in Wareham, Freeman was named the 2016 Thurman Munson Batting Champion and awarded with a trophy during the team's pregame ceremony at Spillane Field.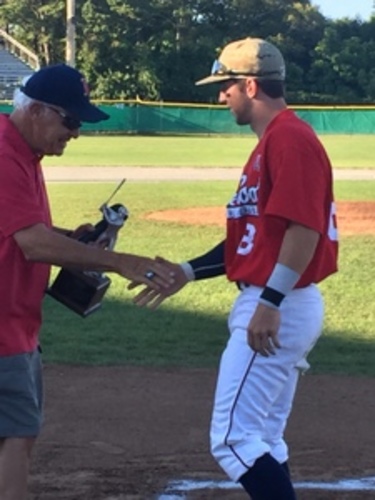 Freeman appeared in 29 games of the regular season for the Gatemen, starting at second base and hitting fairly consistently in the leadoff spot. During his 115 plate appearances he scored 23 runs, had 43 hits including five doubles and six RBIs. Paired with his success at the plate, Freeman was stellar on defense and had plus speed on the base paths [with 13 stolen bases on the season].

Freeman joined the Gatemen this summer, following his junior season at Louisiana State University. The second baseman became a Louisiana Tiger this past year, after previously attending Delgado Community College for his first two college seasons.

At Delgado, Freeman earned 2015 NJCAA Gold Glove recognition at second base; he recorded a .988 fielding percentage with only two errors on the season. He was a 2015 NJCAA All-American, batting .385 with 55 runs, 23 RBIs, and 15 stolen bases. After two strong seasons at Delgado, Freeman got an offer from LSU.

When asked what it was like to be scouted and ultimately given the chance to play at his dream school, Freeman talks about what was going through his head at the time, "you know, a dream coming true…is it really for real…all the work and all the effort I had put in, did it actually pay off?" Adding, "I mean, I was ecstatic. It just pushed me that much more to get better and better and then when it finally came true, it was a day I'll never forget."

At LSU this past season, Freeman fought for and landed the starting job at second base, as the team fielded an entirely new infield. Just as he did this season for the CCBL, Freeman led his team at LSU in batting average with a .329 in 2016. In 66 games and 216 at bats, he recorded 46 runs, 71 hits, seven doubles, three triples, one homerun, and 27 RBIs. His talents did not go unnoticed, as Freeman was selected by the Los Angeles Dodgers in the 18th round of the 2016 MLB Draft, making him the fourth highest selection out of LSU. On June 16, five days after the conclusion of the draft, Freeman tweeted out his decision to return to LSU for his senior season.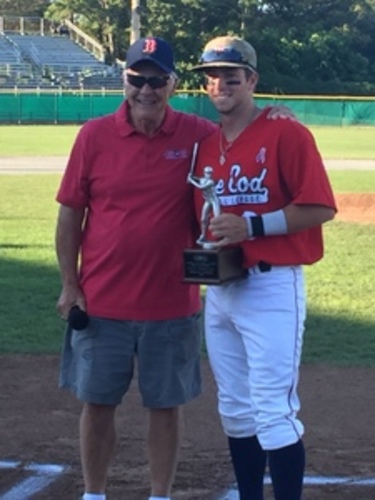 At LSU, the athletic programs have a tradition of passing down jerseys. The tradition started with football, and made its way to baseball. Passing down numbers signifies honoring the players who came before them and represents what it means to be a Tiger. For baseball, the number eight reigns true to the tradition. Passing down the number eight began in 2012 when Mikie Mahtook decided he wanted his number to mean something, and to not have it worn by just anyone. Going into the 2017 season, Freeman was offered the chance to wear the number eight.

The honor of wearing number eight was the leading factor in Freeman's choice to return to LSU instead of starting his career in pro ball. "It was kind of up in the air if I was going to come back or if I would've got the money that I was asking for," he says. "A couple days before I left, coach said he wanted me to wear number eight and, I mean, just to be a part of the names [Mahtook, Katz, Bregman, Fraley], it's something you know, no price can be put on." He admits, "once they said that I was going to get the chance to wear that, it would've taken a hell of a lot of money to get me away from it."

With his choice to return to LSU came his opportunity to play on the Cape. And, with his chance to prove himself further on the Cape, Freeman worked hard everyday to become the league's leading hitter. He talks about his offensive goals coming to the Cape, saying, "Obviously, I wanted my average to be up there," laughing. "But, mainly I wanted to drive the ball, gap to gap more, have a little more extra base hits, not less homeruns but just more doubles, and I wanted to improve on my bunting – push and drag. I didn't really get to the push as much but I definitely improved on my drag. Those were the really big things, hitting-wise, I wanted to come out with and for the most part I did that."

With Wareham head coach Jerry Weinstein known mainly for his concentration in player development, Freeman explains what he has worked on with Weinstein this summer to improve. "Going back-side a lot more and using more of the right side of the field. I'm still pretty much a pull hitter, just really staying on top of the ball. But once I got up here I started using more of the right side." He adds, "I've had as many line drives through the four hole if not more this summer than I had all year at LSU. I've been able to lift the ball a little bit more and I've hit more line drives throughout the whole field." He laughs, saying, "It shows in the average, you know, so I'm not going to stop what's been working."

When asked what it means to him to be named as the 2016 Thurman Munson Batting Champion, the Gatemen second baseman explains, "It's an honor. It wasn't something I came up here trying to do. It just speaks to the coaches and the approaches that, back at LSU and up here, who told me 'if you can do this, you'll be successful'." He concludes, "It's a big thing for me and my family but you know, I'm not going to stop working and so I'll keep improving until I'm batting a thousand."