League News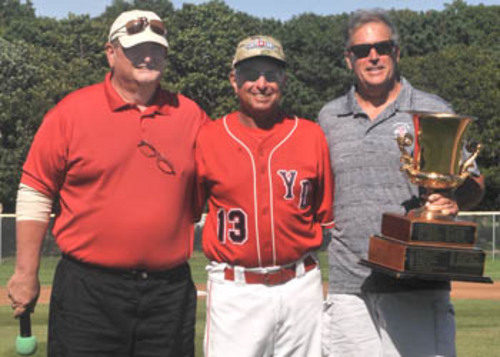 08/08/2016 4:13 PM
Article By:
The Yarmouth-Dennis Red Sox started off the 2016 season as reigning Cape Cod Baseball League champions, a title they have become accustomed to as they have won championships in both 2014 and 2015. Perhaps it is the drive for a "three-peat" that has motivated the Red Sox organization toward yet another successful season. They finished the regular season in second place in the Eastern Division with a 26-17-1 record and have made it through to round 2 of this year's playoff series.

But last Friday afternoon, before the first game of the 2016 Cape League Championship playoffs, the Y-D Red Sox franchise was not recognized for their wins and losses, but for their excellence as an organization, when they were presented with what could be the most prestigious of CCBL awards: the Commissioner's Cup.

League Commissioner Paul Galop, praised the Y-D organization. "The criteria (for the Commissioner's Cup) is professionalism on and off the field. We've got five commissioners that take this really seriously. We had a conference and went through all the details and have had nothing but constant cooperation from this team, on and off the field, all winter, spring, and summer." Galop emphasized, "It was a unanimous choice."

Steve Faucher, Y-D's general manager, was on hand to accept the award from Galop. Faucher said, "This is fantastic!" Clutching the trophy and showing it off to other members of the organization he added, "This is the first time we've won since 2009, and I'm really excited and very proud of everybody. I'm proud of Coach Pickler and his staff. I'm especially proud of the Y-D committee. We work hard all year long and really appreciate getting recognized by the league for all of our hard work."

This is Ed Pereira's first year as President of Yarmouth-Dennis and he couldn't be prouder of his organization. Pereira is grateful to the league "for recognizing us a valued franchise". The Cup is an acknowledgment for creating a positive experience for fans and players, and for displaying professionalism in all aspects of operating the franchise. Pereira said, "It all comes down to the Board members, players and coaches, interns, host families, and all our volunteers. It is a full team effort to win such an award."

Participating in the selection process with Galop were Senior Deputy Commissioner Sol Yas and Deputy Commissioners Bill Bussiere, Mike Carrier, and Peter Hall. This is the Yarmouth-Dennis Red Sox second Commissioner's Cup as they also won it in 2009.