League News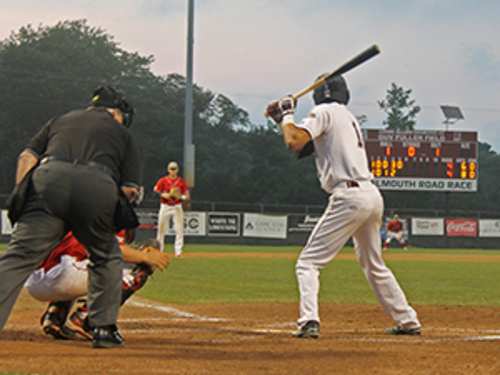 08/11/2016 8:27 PM
Article By:
The 2016 Cape Cod Baseball League Championship Series, a rematch of the 2014 Championship series between the Falmouth Commodores and Yarmouth-Dennis Red Sox, got under way Thursday night at Guv Fuller Field with the Commodores coming out on top, 5-4.
Y-D got on the board in the top half of the first inning with a Dylan Persinger (Cal State Fullerton) sac fly that scored Will Toffey (Vanderbilt). However, the Commodores answered back in the bottom half of the first with a Josh Watson (TCU) double down the right field line that scored Deacon Liput (Florida).
Falmouth tacked on one more run in the third inning, when Cadyn Grenier (Oregon State) opened up the inning with a triple and was immediately brought home by a sac fly off the bat of Michael Gigliotti (Lipscomb).
However, in the top of the fourth, Y-D answered back with a three run homerun hit by Deon Stafford Jr. (St. Joseph's) that made it 4-2, Red Sox. Falmouth answered right back in their half of the inning with a solo homerun hit by designated hitter Tyler Lawrence (Murray State). The next batter, Matt McLaughlin (Kansas) beat out an infield single, stole second and then was brought in by a Grenier double to tie the game.
In the bottom of the fifth inning, Falmouth took the lead for good. First baseman Tristan Gray (Rice) knocked in Liput after Watson moved him to third on a sac bunt.
In the seventh inning Steven Villines (Kansas) came in for Jeff Passantino (Liscomb) after the Cape Cod League Pitcher of the Year threw six solid innings. Villines pitched a scoreless seventh inning and ran into some trouble after a one out walk in the eighth and gave way to standout Falmouth closer, Corbin Martin (Texas A&M). Martin was masterful in his 1.2 innings of work, completely shutting down the Y-D lineup minus a ninth inning single off the bat of Matt Winaker (Stanford). Falmouth won the game 5-4.
Game two is Friday night at 4:00 p.m. at Red Wilson Field.