League News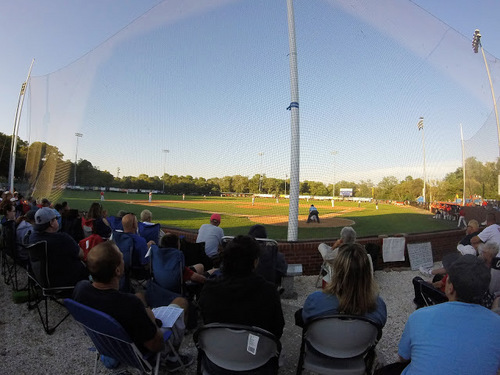 06/26/2018 6:30 AM
Article By: CCBL Public Relations Office
Week Two Wrap Up

The second week is in the books, and the season is in full swing on the Cape. Some teams managed to stay hot, and some teams managed to put some wins together to get themselves back in it.

East Division

Harwich Mariners (7-5-1)

Harwich moved up a spot in week two. They were in second place behind Chatham in week one, but they have managed to take the lead in the East with 15 points. Harwich's Zachary Watson has been the topic of discussion on offense. With a minimum of 2.7 plate appearances per game, he is hitting a team best .382, fourth best in the league, and is also driving in the most runs for the team with nine RBI, fifth best in the league. Garrett Stallings has struck out fifteen batters thus far, which is good for third best in the league. Zack Hess, in two appearances on the mound, has seven innings pitched and has given up just one hit and one walk. Harwich's next game is tonight when they will travel to Hyannis for a 6:00 PM start.

Chatham Anglers (6-4-2)

Chatham fell out of first place, but is just one point behind Harwich and tied with Yarmouth-Dennis with 15 points. Much like Harwich's Zachary Watson, Spencer Torkelson has been red hot for the Anglers. He is hitting a team best .389, five home runs, and fourteen RBI. These are all good for third, tied for first, and second best in the league, respectively. Gregory Veliz and Alek Manoah both lead the team in strikeouts with eleven a piece. Dan Hammer has the most effective 0.00 ERA on the team with eight and two-thirds pitched, giving up no runs, two hits, and strikeouts to just two walks in two appearances. Ben Ramirez has been a wall at shortstop, playing in twelve games errorless games. Chatham plays Falmouth on Tuesday at 7:00 PM.

Yarmouth-Dennis (6-5-2)

The Red Sox have been fairly consistent, and they are tied for second place with Chatham. They ended week two with a win in the second leg of their doubleheader. Y-D has had huge contributions offensively, but Quin Cotton has been the most impressive. Cotton has a .349 batting average which is fourth in the East. He is followed by the Red Sox Andrew Daschbach with a .345 batting average. Cotton has a team high seven RBI, Christian Koss has the second best with six. Y-D is tied with Chatham for most runs scored at 57 in the East. The strikeout has been a big part of their success. Brant Hurter has started two games and struck out thirteen batters in ten innings. Alec Marsh and Tristan Baker both have twelve strikeouts each. Yarmouth will play Tuesday at 5:00 PM when they will host the Orleans Firebirds.

Orleans Firebirds (4-8)

Orleans has not found their groove yet thus far, losing three of their last seven and continuing to struggle to make their way up the standings. Logan Wyatt has been very good offensively for the Firebirds, hitting .343 in 35 at bats, and is tied with teammate Jaxx Groshans at three long balls, which is good for second best in the entire league. Wyatt and Groshans are also in top four in the East with nine (best in division) and six RBI, respectively. The Firebirds have gotten five great starts from Aaron Ochsenbein despite looking at his 0-2 record. He has yet to walk one hitter and has sat down thirteen. Carter Aldrete has been outstanding at third base, playing in eleven of the twelve games and holding a perfect fielding percentage. Orleans is in action today at 7:00 PM where they will wrap up a three-game homestand against the Whitecaps of Brewster.

Brewster Whitecaps (3-9-1)

The Whitecaps have the worst record in the league, and hold just seven points after two weeks. They have allowed the most runs in the league, as well as scoring the second least amount. This has given them the worst run differential, sitting at -22. There have been some good averages as of late however, primarily lead by Michael Massey. Through 38 at-bats, he is hitting .447 and has three walks. He also has a homerun and a team best three doubles. Owen Griffith has been impressive on the bump for Brewster. In three appearances, he has five innings under his belt and holds a 1-0 record with a 0.00 ERA, seven strikeouts, and no walks. Massey has also been playing well defensively, playing shortstop in ten games and holding a .971 fielding percentage. Brewster will play today in Orleans to stop a three-game losing streak at 7:00 PM.


West Division

Wareham Gatemen (9-5)

The Gatemen continue to prove that they are the best team in the league, holding the best record and most points with 18. Austin Shenton has swing a very hot bat with a .410 batting average and eight RBI. Andrew Vaughn has been the main source of run production for Wareham, hitting a league best five home runs and driving in the fourteen RBI. Ken Waldichuck has been stellar through two weeks, starting two games and racking up twelve strikeouts in nine innings pitched. He has allowed just three walks and one run in the two starts. Shenton has been outstanding on the defensive side at third base with a .950 fielding percentage. Bryson Stott has been even better with a .976 fielding percentage in twelve of the fourteen games. Wareham will be in action on Tuesday after an off-day Monday. They will take on Hyannis at McKeon Park for a 6:00 PM start.

Hyannis Harbor Hawks (7-4-1)

Hyannis has warmed up lately, winning six of their last ten games played, including three straight, putting them in second place in the West. They moved up a spot from last week's third place. Michael Barefoot has done a lot of the heavy lifting for Hyannis, hitting .324 with two long balls and seven RBI. Braden Comeaux has also hit well, sitting at .300. Todd Lott had a big night Sunday with two home runs and he has three on the year. Dylan Thomas has been great on the mound for the Hawks collecting three wins which leads the West. He has five appearances and has only given up one run, no walks, and eight strikeouts. Comeaux has the most innings played in the infield with 73 innings, and has a fielding percentage of .943 at third base. Hyannis will host Harwich at 6:00 PM tonight.

Cotuit Kettleers (7-5)

Cotuit has just switched spots with Hyannis as they are just one point behind them with fourteen. They have the best run differential in the division with a +19. Jonathan Robertson has been hitting well for Cotuit and leads the club with a .341 average. Peyton Burdick has the most long balls on the team with three, and also leads with eight RBI, showing that he is a crucial bat for Cotuit. John Baker has been nothing less than spectacular for the Kettleers on the mound. He has three appearances (two starts) and has a 2-1 record. With a total of seventeen innings pitched, Baker has put up an insane eighteen to one strikeout-walk ratio, and has allowed just two runs to make up a 1.05 ERA. Deacon Medders has also impressed on the hill, pitching eleven innings and giving up just one earned run and eight strikeouts. Cotuit will play on Tuesday when they will host Harwich at 5:00 PM.

Bourne Braves (6-6-1)

Bourne has made a little improvement since the first week, and has moved one spot up in the standings with thirteen points. Spencer Brickhouse is all over the board offensively, hitting a smooth .356 with three home runs and twelve RBI. He has arguably been one of the best hitters in the entire Cape League. Pitching has come along very well with Jared DiCesare striking out sixteen and Bryan Hoeing adding another thirteen to that. DiCesare also holds a 0.61 ERA through fourteen and two-thirds innings pitched. Jared Triolo has been great at third base for the Braves, playing in ten errorless games. Bourne will travel to Brewster on Tuesday to take on the Whitecaps at 5:00 PM.

Falmouth Commodores (4-8)

Falmouth has really struggled of late, losing three of their last ten. However, a sweep on Sunday has given them a chance to have a good third week and bring them back into contention. They currently sit last with eight points behind Bourne's thirteen, but they still have a lot of baseball to play. Hitting has been a weak point for Falmouth, as they are batting just .212 as a team. They have had solid pitching however, lead by Ian Koch who has eleven and two-thirds innings pitched and has eleven strikeouts and has yet to give up a run. TJ Sikkema has also been good for the Commodores, giving them ten and two-thirds innings and holding a 1-1 record. He has given up just two runs and has collected seven strikeouts. Falmouth will play in Chatham on Tuesday at 7:00 PM.