League News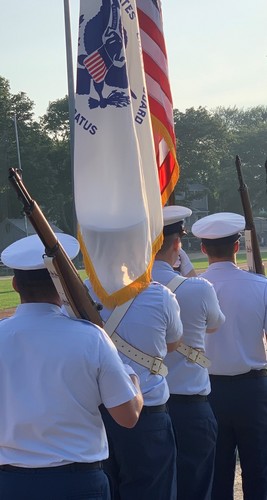 07/25/2019 5:04 AM
Article By: Joseph Barrett


The Cape Cod Baseball League honored the Coast Guard this past Saturday with a pregame helicopter flyover at Veterans Field.

Longtime followers of the league surely recognize the name James Nowak, as his voice brought the baseball experience alive while he was the PA announcer for the Brewster Whitecaps.

Nowak, a Chatham native, has been heavily involved with the Cape League since he was a child. That being said, some of his first baseball memories go back to when he was a batboy for the league in 1963.

Nowak's Cape League experience was special off the field as well, as his parents volunteered to be a host family when he was a child. To make things even better for Nowak, he was proud to call Thurman Munson his very own housemate.

The former Yankee and two time World Series champion posted a .420 average during his time on Cape Cod, while Carlton Fisk was a member of the Orleans Firebirds during the same season.

As someone who's been involved with the Cape League for decades, Nowak holds a fond understanding of things that are truly important. His love for the Coast Guard is beyond apparent, and his appreciation for their hard work and unmatched dedication doesn't go unnoticed.

"The Coast Guard is one of the most important military entities… I want the public to know that the Coast Guard is here for them." said Nowak.

Nowak has been involved with the Coast Guard for many years, and felt as if they weren't getting the recognition they deserved.

As a result, for the last twelve years, Nowak has visited the Chatham fish pier during the holiday season with the Coast Guard by his side. The group passes out candy canes, presents, and more to the people of Chatham.

"They didn't really get too much consideration, so therefore I wanted them to be out in the public." said Nowak.

A flyover hadn't taken place at Veterans Field since the year 2000, so the Coast Guard and the Cape League teamed up to put together something special for the Angler faithful.

Moments before a Saturday contest between the Chatham Anglers and Harwich Mariners, a helicopter flew over the field to honor the Coast Guard and our military.

It was a special moment for the hardworking men and women who dedicate their time to make our home a better place. As the league moves further into the season, the people of Cape Cod appreciate the commitment and actions portrayed by their very own Coast Guard.