League News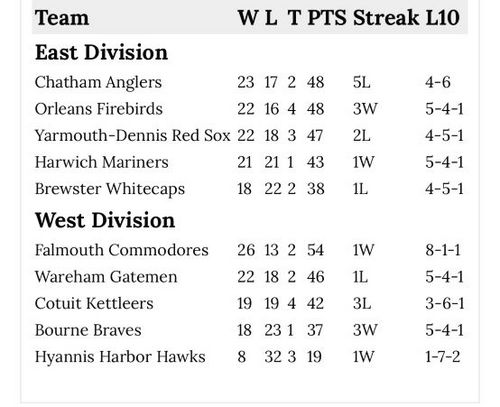 07/30/2019 8:28 PM
Article By: CCBL Public Relations Office

With just two days left in the regular season, who wins the East Division is still up for grabs. Orleans and Chatham are tied with 48 points and they play each other Wednesday and Thursday. Thursday is a Make -up game. Y-D Has one game left to play and with a win can sneak into second place with 49 points with a sweep by either Orleans or Chatham.

The West is a bit more clear. Falmouth has clinched the division and the best record in the league with three games left to play. Wareham and Cotuit both have two games left to play with Wareham holding a 4 point lead. Wareham needs one win to secure second place in the West.

Playoffs begin on Friday with the 1st place team in each division playing the 4th place team. Second place plays 3rd place. First place and second place teams have home field advantage in the best two out of three series.

Winning teams in these series go out to play the another in the next best two out of three series to determine who goes to the finals.