League News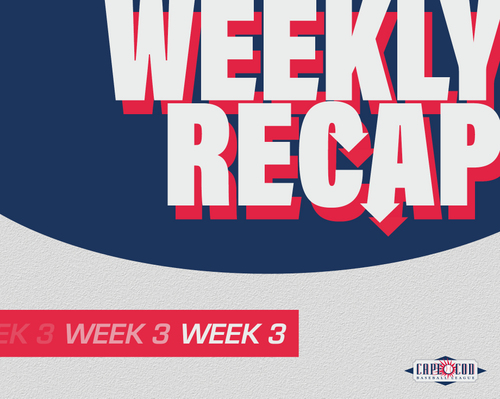 07/11/2021 4:10 AM
Article By: Ethan Kagno


A lot went on in week three. Bourne suffered their first loss of the season to Cotuit 2-0 last Monday, but still boast the league's best record at 10-1-3. Yarmouth-Dennis now leads the East Division by two points with a 7-4-4 record, and have won or tied in eight of their last 10 contests. Before we advance to week four, let's reflect on some of the amazing performances from each team over the last week of Cape League baseball.

Bourne Braves (11-1-3): Zachary Agnos, 3B/SS, East Carolina University
Agnos went 3-for-13 (.231) this past week for the first place Braves. His best performance of the week came on Tuesday with a double and triple which knocked in the only runs of the game for Bourne in a 2-2 tie against Orleans. On the season, the ECU Pirate is 7-for-32 (.219) with a pair of triples and five walks in 13 games played. Agnos will look to stay hot in the upcoming week as we approach the halfway mark of the season.

Brewster Whitecaps (8-5-2): Colin Davis, OF, Wofford College
Davis gets his second mention of the year as he continues his outstanding play. The Brewster Whitecap has one of the best bats in the league currently, with a .413 batting average on the year. Since July 4th, Davis has gone a stellar 9-for-18 (.500) with four multi-hit games. He also added two more stolen bases against Hyannis on Wednesday and one last night against Cotuit, bringing his total to a league best 13 so far this season. Wofford's very own continues to showcase his speed on the base paths for a Brewster squad that is eyeing first place in a tight East Division.

Chatham Anglers (5-9-3): Adam Tulloch, P, West Virginia University
Tulloch made his third start of the season for Chatham last Monday. The southpaw threw four innings of work and surrendered no runs against 16 Harbor Hawks faced. With this outing, Tulloch's scoreless streak had reached 11 innings, spanning over his first three starts. On Saturday however, Tulloch allowed four earned on five hits and compiled seven more strikeouts in a no-decision at Harwich. The Mountaineer has allowed nine hits all season and carries a respectable 23-2 K/BB ratio with a 0.80 WHIP for the Anglers.

Cotuit Kettleers (7-8-0): Justin Meis, P, Eastern Michigan University
Meis was featured in two starts this past week for the Kettleers. He was solid in both, as he pitched 10 innings, allowing just one earned run, four hits, and 12 strikeouts combined in his two outings. The Cotuit hurler from Bethel Park, Pennsylvania is 1-1 with a 2.07 ERA in four starts and a 0.81 WHIP. He'll look to continue rolling in his next start for the 7-8-0 Kettleers.

Falmouth Commodores (5-7-2): Jace Bohrofen, RF/1B, University of Oklahoma
Bohrofen has been a staple in the 'Dores lineup, as he has been as consistent as they come. Bohrofen capped off a week where he collected a hit in every game since last Sunday. The Oklahoma product homered in back-to-back games with two RBIs in each against Yarmouth-Dennis and Brewster, respectively. His 15 RBIs currently lead the Cape, as he continues to see the ball well (.340/.468/.745) for Falmouth.

Harwich Mariners (7-6-2): Trey Dombroski, P, Monmouth University
Dombroski currently is atop of the league in K's (22) thanks to a seven inning, nine strikeout performance against Yarmouth-Dennis, as he picked up the win on Thursday. The 6'5" lefty from Monmouth has whiffed 19 in his last two outings and allowed just two earned runs on the year. Dombroski will carry a 1.42 ERA into his next outing and has only surrendered one walk all season long.

Hyannis Harbor Hawks (2-13-0): Marcos Pujols Martinez, 1B, University of Dayton
Pujols Martinez has been a lone bright spot in an otherwise rough season for the Harbor Hawks. Despite Hyannis' 2-13-0 record, "MPM" spent the last week and a half riding a nine game hitting streak, including a two-run bomb against Orleans on Thursday. The Harbor Hawks 1B is 11-for-44 on the year, with two home runs and seven RBIs over a 12 game span. MPM will look to help steer the ship in the second half of the season for Hyannis.

Orleans Firebirds (7-5-2): Christian DeLauter, CF/P, James Madison University
DeLauter put on his own fireworks display on July 4th, after crushing a 1-0 fastball to the opposite field off of Chatham's Dylan Carmouche (Mississippi State). It was his fifth deep shot of the year and first of the week, which was later followed up by his league leading sixth home run on Thursday, in a 11-6 road win against Hyannis. It was DeLauter's second straight three-hit game, as he raised his OPS to 1.809, best on the Cape this season. After winning Cape League Player of the Week, DeLauter's bat stayed as hot as his .362/.392/.787 slash line suggests.

Wareham Gatemen (6-6-4): Jimmy Crooks, C/1B, University of Oklahoma
Wareham's Jimmy Crooks is one of the hottest hitters in the league currently, as he has collected hits in each of his last nine games since June 27th. The product of Oklahoma collected a home run and four RBIs last night in a 4-2 victory over Hyannis. Crooks went 8-for-19 (.421) this past week and has been a key piece alongside Owen Diodati and company for the second place Gatemen.

Yarmouth-Dennis Red Sox (7-5-4): Patrick Gallagher P, University of Connecticut
The Massachusetts native, from Leominster, Massachusetts, was stellar in his second start of the season for Y-D after allowing five runs in his first outing. On Independence Day, Gallagher whiffed 11 Harbor Hawks during his first win of the season. The UConn Husky improved to a 5.40 ERA and 1.20 WHIP, but after impressing in his last start, things are starting to look better for Gallagher and the first-place Red Sox.