League News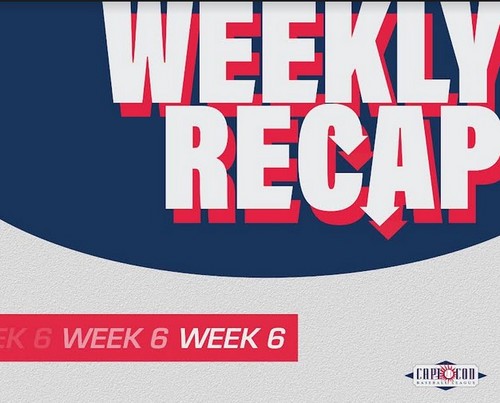 07/31/2021 9:06 PM
Article By: Ethan Kagno


With the hectic MLB trade deadline dominating the headlines, and all focus shifting to the last week of the regular season, there were 10 players who continued to shine on the diamond in week six of the Cape League season. The Bourne Braves were first to punch their ticket into the playoffs that start this Friday, who currently sit atop of the West Division at 23-7-3. Meanwhile, the Hyannis Harbor Hawks were eliminated from playoff contention with only one more spot in the West to claim. Still, this last week of baseball will be just as, if not more important for players to help their teams make it to the second week in August.

Bourne Braves (23-7-3): Austin Parsley, P, UNC Greensboro

Austin Parsley has been stellar this season, carrying an unblemished 3-0 record for the Bourne Braves who were the first team to clinch a playoff spot in the league. The Charlotte, North Carolina native whirled four innings and struck out seven despite receiving the no-decision in a tight 3-2 loss against the Brewster Whitecaps, who secured the top spot in the East Division. Parsley was named an All-Star this season and posted terrific numbers for the best-in-the-West Bravos. His 36/1 K/BB ratio was tops in the league alongside his 2.05 ERA and 0.80 WHIP in 26 ⅓ innings pitched. Parsley's 2.682 strike percentage was also best in the league among qualified pitchers.

Brewster Whitecaps (21-9-3): Bryce Hubbart, P, Florida State University

Bryce Hubbart continues to show why he belongs in the BFC Whitehouse Outstanding Pitcher Award conversation. Hubbart picked up his third victory of the season while lowering his ERA to 0.87 aside his outstanding 0.71 WHIP. The Florida State lefty kept things rolling Monday night in a huge game against the second place Mariners; slinging six scoreless innings while allowing just three hits after adding four more strikeouts to his total on the season (45), which is tied for first in the league with Trey Dombroski. Hubbart has not allowed a single earned run in his last 27.0 innings of work while hitters are struggling to make contact considering they are batting a mere .135 off Brewster's ace.

Chatham Anglers (14-18-3): Lyle Miller-Green, OF/1B, George Mason University

Lyle Miller-Green carries an eight-game hitting streak into the last week of the regular season, including two multi-hit performances in that span. The George Mason Patriot is 8-for-25 (.320) since last Sunday and has six RBI in that span. Miller-Green currently ranks tied for second in the league with 24 RBI, behind Tyler Locklear's (Orleans) 27. The 6'5", 240 pound slugger has been a regular in Chatham's lineup all Summer, starting in 34 of the A's 35 games this season. Through six weeks, Lyle Miller-Green is batting .229 with 6 HR and 24 RBI.

Cotuit Kettleers (16-16-1): Ryan Ritter, SS/3B, University of Kentucky

Ryan Ritter is coming up huge for the Kettleers late in the season. The Kentucky Wildcat has reached base safely in 11 straight games while owning a 10-game hitting streak in that span. Ritter was a red-hot, 11-for-20 (.550) last week and has helped Cotuit win some important games down the stretch. On Friday, Ritter tripled, walked three times, and scored three runs in a massive 12-5 win over Wareham; thanks in part to a seven-run, bottom of the eighth inning to seal the deal. Ritter will hope to stay hot in their next game against Falmouth on Sunday, which with a win, could ultimately decide the second playoff spot out of the West.

Falmouth Commodores (14-16-2): Kristofer Armstrong, IF/OF, University of Florida

Kristofer Armstrong has perhaps been one of Falmouth's best players over the last week of action. Armstrong is 8-for-26 (.308) and has two home runs since last Sunday, bringing his total on the year to seven, tying Owen Diodati (Wareham) for second place on the Cape. The switch hitter from the University of Florida has enjoyed a solid season, batting an even .300 and has tallied 21 RBI in 80 at-bats for the 'Dores this season.

Harwich Mariners (18-11-4): Trey Dombroski, P, Monmouth University

Another player who could challenge Brewster's Bryce Hubbart for the BFC Whitehouse Outstanding Pitcher Award is Harwich's Trey Dombroski. The Mariner's southpaw pitched well against Falmouth last Wednesday after allowing one run (zero earned), five hits, and seven strikeouts through seven innings of work. Like Hubbart, Dombroski lowered his ERA to a sub-1 (0.85) and a 0.92 WHIP through 31.2 innings pitched. He has a perfect 3-0 record and has surrendered three earned runs all season. As previously mentioned, Dombroski's 45 K's are tied with Brewster's Bryce Hubbart for the league lead. Harwich's ace could be a focal part of the Mariners' playoff success as they close in on the second spot in the East.

Hyannis Harbor Hawks (7-26-0): Luke Mann, 3B/IF, University of Missouri

Since July 24, the "Mann" himself had a string of five, two-hit games and is 8-for-21 (.381) since last Sunday. In his first game of the week on Monday, Luke Mann put on a show, clobbering a three-run home run, and RBI double en route to a 15-5 victory over Cotuit. After a rough start of the season, Mann has raised average from .174 to .283, and his OPS from .443 to .827 in the last month. His 24 RBI is tied for second with Lyle Miller-Green (Chatham), and Brock Wilken (Harwich).

Orleans Firebirds (12-16-4): Trae Harmon, 1B/OF, Stetson University

Since joining Orleans back on July 13th, Trae Harmon has posted solid numbers, hitting .356 and collected nine RBI in 14 games for the Firebirds. Most of his production has come in the last week as he went 10-for-23 (.435) with a home run, seven runs batted in, and three doubles. Harmon currently rides a seven-game hitting streak into the final week of the season as Orleans will look to finish their season out strong.

Wareham Gatemen (11-18-5): Tres Gonzalez, OF, Georgia Tech

Tres Gonzalez was arguably the best player last week. His .342 AVG is tied for second in the Cape League with Clark Elliott (Hyannis) and has 23 hits since July 18th, with 14 of those coming since Sunday. He is currently on a 12-game hit streak, seven of those games resulting in multi-hit efforts, two of which were four-hit games. Wareham continues to fight for the last playoff spot in the West, and will play Falmouth twice next week which could be a pair of must win games for the Gatemen.

Yarmouth-Dennis Red Sox (14-13-7): Brooks Lee, SS/2B, Cal Poly San Luis Obispo

Since taking a brief hiatus with US Baseball, Brooks Lee has picked up right from where he left off with Yarmouth-Dennis. Since returning for the Red Sox, Lee has collected 16 hits since July 21st, with 14 of them coming in the last week. Last Tuesday, in a game against the first-place Whitecaps, the talented infielder went a perfect 5-for-5 with two home runs, a double, and drove in two in a 10-3 rout of Brewster. Lee is batting an impressive .423/.438/.676 with a 1.114 OPS in 18 games for Y-D this season. In lieu of Lee's impressive showing both on the Cape and for Team USA, the Cal Poly Sophomore is currently ranked as the number one hitter and projected as the third overall pick in next year's draft. Brooks Lee will be a name to remember for the rest of the season, and beyond as he continues his journey to the Major Leagues.