League News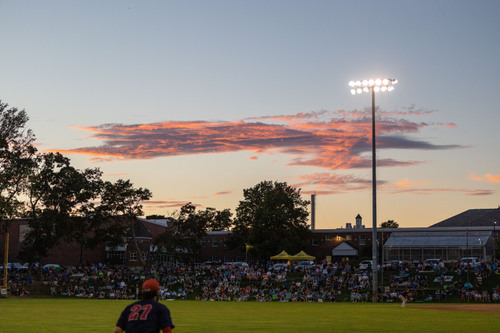 08/03/2022 10:16 PM
Article By: Kayla Gregoire
As the 2022 Cape Cod Baseball League regular season wrapped up, fans were a large focus for the CCBL.

Fans broke a major record this year, with the league welcoming a record 329,209 fans to CCBL games throughout the 2022 season. The average attendance for games this season was 1,568 fans, also a record. Last year 268,773 fans came to the ballpark, and average attendance was 1,493.

The ballpark that contributed the most to this was Veterans Field, home to the Chatham Anglers. The Anglers hosted a total of 53,725 fans during the season and averaged 2,558 fans a night. The next closest ballpark with the most fans was Eldridge Park, home of the Orleans Firebirds, with a total of 39,425 fans.

On Tuesday, the Harwich Mariners had the most fans for their regular season finale with 4,270 people filling the stands.

Tuesday was supposed to mark the last day of the regular season, but due to weather postponements the end of the regular season was moved to Wednesday.

Fans filled ballparks around the league to watch teams play their last games before heading into the playoffs. In Bourne, "Let's go Braves" chants echoed throughout the ballpark as they won their game against Hyannis. Fans had a smile on their face the whole night and enjoyed the atmosphere.

Kids ran throughout the field, playing catch with their families before the game started. During the game, kids stood by the dugouts in hopes of getting their favorite player's signature. As players signed balls, kids stood in awe with their favorite player in front of them.

Some people come to a Cape League game while visiting the Cape on vacation. One fan recounted coming to the game on Tuesday because they were visiting the Cape and have a love for baseball.

"I didn't know it was one of the last games, when coming today," a fan said. "I came with my family because we enjoy watching baseball at home and have heard how fun these games are."

As playoffs start on Thursday, the number of fans attending games will only continue to grow. With summer ending, both kids and adults will want to enjoy their last moments of the summer with playoff baseball.