League News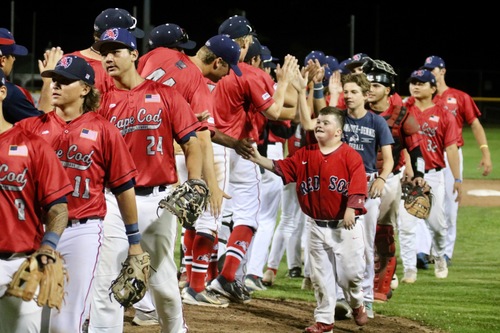 08/06/2022 6:45 AM
Article By: Kayla Gregoire
The second games of round one ended in some Cape teams having their seasons ended. Some teams are moving on to the next round and having their dreams of a championship come closer.

Yarmouth-Dennis defeats Orleans 12-11 and 8-4 (YD Wins Series)

After a suspension of their game due to darkness on Thursday, the Yarmouth-Dennis Red Sox and Orleans Firebirds met at Red Wilson Field again to finish the top of the ninth inning. Braden Montgomery took to the mound to finish out the ninth that took 12 minutes and did not allow a run to cement a 12-11 Y-D victory.

Less than six hours later, the Red Sox and Firebirds met up again, but this time at Eldredge Park.

Unlike the first game, both teams were chipping away at each other throughout the game. Y-D was the first to get on top by three runs in the first inning. Most notably, with runners on base, Jonny Long continued where he left off in game one with a two out single to drive home two runners.

Ivran Romero, the Red Sox starting pitcher, found himself in a jam in the first inning, but with two runners on first and second was able to strike out Jacob Stinson to get out of it.

In the second, Y-D loaded up the bases, but only got two runs out of it on an Orleans error and Mike Boeve single.

Orleans attempted to make their comeback from an 8-1 deficit in the eighth inning. Dixon Black sent the ball over the fence to make an 8-4 ballgame, but Orleans could not make a comeback.

Cole Carigg, a position player, came out on the mound for his third appearance as a pitcher, striking out the side in the ninth. Carigg sealed the sweep for Y-D, kicking Olreans out of the playoffs.

Brewster defeats Harwich 5-3 (Brewster Wins Series)

The Harwich Mariners are known to be a good team at home, but the Brewster Whitecaps spoiled that for them at Whitehouse Field.

Unlike game one, Brewster came out to an early lead on a Cameron Fisher home run to make the score 3-0. Harwich answered with a Tommy Seidl home run in the second inning but struggled to get runners to cross home plate after that.

In the fifth, the Whitecaps added a runner on base and worked a Carson Demartini single and Nick Lorusso double to add onto their 5-1 lead.

Despite the Mariners struggles to get hits off of a strong Brewster bullpen, the Mariners attempted a comeback in the seventh inning. The league leader in RBI, Joe Vetrano, started off the scoring after hitting a single, but stretching it to a double due to an error by Kurtis Byrne. Ethan ODonnell took advantage and was able to cross home plate. After that, Brock Wilken singled to send home Nick Goodwin.

The Mariners were not able to capitalize off of their seventh inning and lost to the Whitecaps 5-3, advancing Brewster to the next round.

Falmouth defeats Bourne 11-4 (Series Tied 1-1)

The Falmouth Commodores knew heading into game two that this was a must win game for them and their offense came out ready. The Bourne Braves pitching and defense struggled in the third inning, allowing Falmouth to take a 7-0 lead.

The inning started out with Bourne getting the first out of the inning, but with one out in the inning, the Commodores took advantage. With walks and wild pitches, Falmouth was working Bourne. After six runs were put on the board, the Braves made a pitching change, but the Commodores got one more run before getting the third out of the inning.

The Braves tried to push their way back with a three-run inning but could not create enough offense throughout the rest of the game. As Bourne pitching continued to struggle, the Commodores offense continued not to.

Falmouth eventually beat Bourne 11-4, forcing a game three to be played at Doran Park.

Cotuit defeats Hyannis 9-1 (Series Tied 1-1)

Cotuit starting pitcher Harrison Cohen, shutout Hyannis from adding runs on the board, and the Kettleers continually kept adding runs on the board.

If there was an MVP in game two of the series, it would go to Harrison Cohen. Cohen pitched six shutout innings, only allowing five hits. The Kettleers pitcher had a total of five strikeouts to add on top of his already impressive outing.

On the other hand, Harbor Hawks starting pitcher, Magdiel Cotto, struggled against a thriving Cotuit offense. Cotto went 3.1 innings and allowed six runs on nine hits with zero strikeouts. When Patrick Harrington came in to replace Cotto, he also struggled. In his outing, he gave up three runs off of five hits. Hyannis leaned on Austin Amaral to close the game out, and he did not disappoint. In his two-inning outing, he did not give up a run and had two strikeouts.

Offensively, designated hitter Carter Trice was impressive in the Cotuit lineup. In four at-bats, the Kettleer had three hits, leading in two runs.

With strong pitching and offense, Cotuit forced a game three against the Harbor Hawks with a 9-1 score.