League News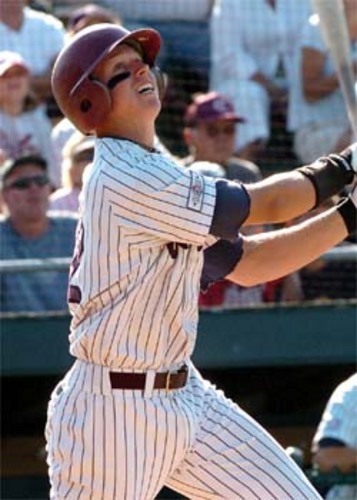 11/15/2022 8:50 AM
Article By: CCBL Public Relations Office
Justin Smoak arrived at Cotuit following his freshman year at the University of South Carolina in 2006. He left two months later as the Most Valuable Player of the Cape League.
Smoak was a force at the plate, slashing .286/.382/.565 over the regular season and leading the team with 27 RBI, 10 doubles, 11 home runs, 25 runs, and 87 total bases. For context, the 2006 Kettleers team combined to hit 28 home runs, so Smoak accounted for nearly 40% of their total home runs.
Smoak was named to both the Western Division All-Star team and the end-of-season All-League team as the first base representative. Most importantly, Smoak was named the Most Valuable Player of the league.
Smoak helped lead the Kettleers to a 26-16-1 record, good for the regular-season West Division title and the top seed for the playoffs.
Smoak was selected 11th overall in the 2008 MLB Draft by the Texas Rangers.
In 2017, Smoak enjoyed a career-year while playing for the Toronto Blue Jays. He slashed .270/.355/.529 with 38 home runs and 90 RBI, being named to the American League All-Star team for the first time in his career.
Overall Smoak enjoyed an eleven-year career in the MLB, playing for the Rangers, Mariners, Blue Jays, Brewers and Giants. He finished his MLB career with 196 home runs and 570 RBI.
Smoak is one of six inductees from the 2022 CCBL Hall of Fame Class. Be there this Sunday to watch them be immortalized in Cape League history.