Pitcher & Player of the Week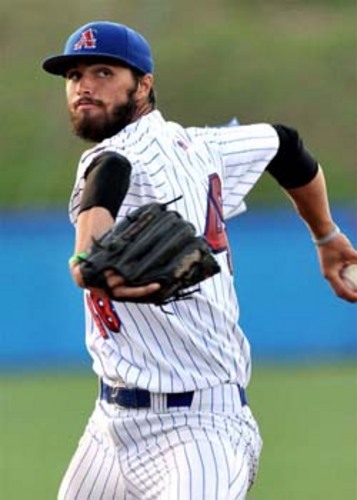 PITCHER: Lukas Schiraldi – Chatham
Chatham pitcher
Lukas Schiraldi
(Navarro College) put up a great show last week that took the Anglers into the Eastern Division championship series, earning him recognition as this week's Coca-Cola's Pitcher of the Week.
In last Tuesday's outing against Y-D, Schiraldi tossed seven strong innings in which he allowed just two hits and struck out six in the Anglers' 6-0 victory over the Red Sox. He finished the summer 5-1 with an impressive 1.01 ERA and 33 strikeouts.
Schiraldi, originally from Austin, Texas, attends Navarro College. He went 9-2 in 76 innings pitched for the Bulldogs with a 2.84 ERA.
PLAYER: Austin Byler – Cotuit – IF
Sweet swinger
Austin Byler
(Nevada Reno) put up quite a front this past week, guiding Cotuit to the Cape League championship series against Orleans and winning himself a Coca-Cola's Player of the Week nod.
Byler hit the ground running last Wednesday, in which the Kettleer earned two extra-base hits for Cotuit. Byler homered in the sixth, doubled in the eighth and singled in the 10th to help Cotuit to a 5-4 victory over powerhouse Falmouth. Against Falmouth last Thursday, Byler's sacrifice fly put the Kettleers ahead en route to a 5-2 victory over the Commodores to clinch the Western Division series. He is currently posting a .304 batting average, with 11 RBIs and 17 hits in 56 at-bats.
Byler, a native of Peoria, Ariz., attends the University of Nevada. The southpaw hitter led the Wolfpack last season with a .346 batting average and 35 runs scored on 63 hits.