League News
Hyannis Mets' VP Peter Scarafile
Receives Hyannis Chamber's
JFK Jr. Community Service Award
HYANIS, Mass. – Peter Scarafile, vice president of the Hyannis Mets, has received the John F. Kennedy Jr. Community Service Award, given annually by the Hyannis Area Chamber of Commerce to a person who demonstrates exemplary service to the community. The award was presented by 2002 winner Sharon Hawkins on Oct. 8 at the chamber's annual meeting at the Cape Codder Hotel.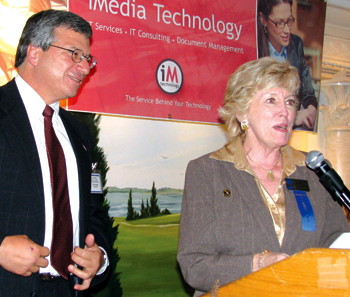 Peter Scarafile, winner of the John F Kennedy Jr. Community Service Award, is introduced by Sharon Hawkins, recipient of this same award in 2002, at the annual Hyannis Area Chamber of Commerce dinner at the Cape Codder Hotel on Oct. 8.
(Photo courtesy of Rob Sennott, Barnstable Patriot)
Other past recipients are Richard Penn, Hank Farnham, Chief John Finnegan, Leo Fein, Anne Walther Hayes, Dave Chase, Cheryl Walsh and Robert Smith.

Scarafile is the pharmacy director for Cape Cod Hospital, where he has worked since 1975. He is well known and highly respected for volunteering his time to many organizations and causes.

This past year, he made a major commitment of hours to raise $500,000 in donations, goods and services to bring lights back to McKeon Field, the Hyannis Mets' home ballpark, and was honored as the team's Volunteer of the Year.

Scarafile also serves on the Board of Directors of the John F. Kennedy Hyannis Museum, and it was his idea to bring the Cape Cod Baseball League's Hall of Fame and Museum to a renovated lower level of the JFK Museum. He also donated time this year to the production of the new film, "At The Center of the World -- Hyannisport and the Presidency of JFK," to be featured at the JFK museum, and he has volunteered time in the gift shop.

Scarafile and wife Judy, a fellow pharmacist and equally active volunteer, helped build a Habitat for Humanity home on the Cape and the couple used vacation time to travel to Slidell, La., to build a Habitat for Humanity home for a family affected by Hurricane Katrina.

He also took an eight-week course to become a qualified member of the Community Emergency Response Team in order to be ready to respond in times of disaster.

His seemingly endless list of volunteer activities also includes time at St. Mary's Church for its hospitality nights for homeless men as well as years of service to Big Brothers/Big Sisters, Pope John Paul II High School, the Hyannis Area Chamber of Commerce and Bay Bridge.

The Cape Cod Baseball League congratulates Peter Scarafile, not only for winning this prestigious award but for his selfless service and efforts to help those less fortunate.

Joe Sherman, CCBL Public Relations Staff (jws02673@aol.com)

John Garner, Jr.
Director of Public Relations & Broadcasting
(508) 790-0394
johnwgarner@earthlink.net

Joe Sherman
Web Editor
(508) 775-4364
Jws02673@aol.com