News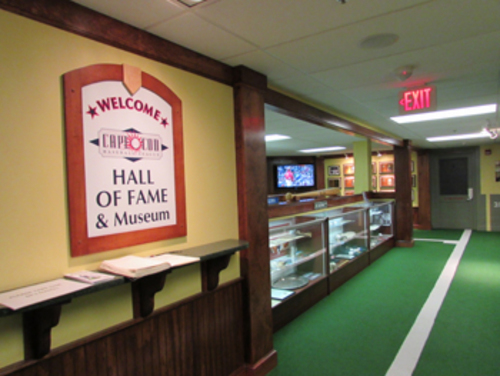 11/18/2021 5:40 AM
Article By: CCBL Public Relations Office
Diamond Donors
Your Name in the Hall of Fame
Calling all Cape League fans! On Sunday, November 21st, the Class of 2020 will be inducted into the Hall of Fame at our annual Cape Cod Baseball League Hall of Fame Ceremony and Induction. Due to the pandemic, we will not have a Class of 2021 in the traditional sense. Instead, we would like to invite you, our dedicated fans, to become a part of our Class of 2021 through our Diamond Donors promotion. By making a donation in any of the giving tiers outlined below, you will be recognized in a press release as a member of the 2021 Class. If you make a donation in the Home Run or Grand Slam giving levels, you will be included in the physical Hall of Fame as a member of the Class of 2021.
Diamond Donors: Giving Tiers
Single ($25.00 - $49.99)
Double ($50.00 - $99.99)
Triple ($100.00 - $249.99)
Home Run ($250.00 - $499.99)
Grand Slam ($500.00+)
Furthermore, for every $25 donated, supporters will receive an entry into our 12 Days of Gift-aways promotion where we will pick one winner every day for 12 consecutive days to win a Cape Cod or sports themed prize pack! For example, if you donate $250.00, you will receive 10 entries into the promotion. So far, we have received donations from the Boston Red Sox, Boston Bruins, T. Jazelle, SLYK Shades, Cape Cod Coffee, Cape Cod Chokers, EJ Artistry, Barnhill Pottery and several more! The 12 Days of Gift-aways will run from Monday, December 6th through Friday, December 17th so to be included in the giveaway, be sure to donate early!
At this time, the Hall of Fame is currently without a home. However, your support well help us take another step forward toward finding the next home the Cape Cod Baseball League Hall of Fame so that all inductees can be properly recognized and remembered. To become a part of the Class of 2021 and to help support the Cape Cod Baseball League Hall of Fame, you can donate online at
https://tinyurl.com/DiamondDonors
. Checks can be mailed to:
Cape Cod Baseball League
c/o Paul Logan, Treasurer
59 Dovetail Lane
Cotuit, MA 02635
The deadline to be included in the Class of 2021 is 12/31/2021. We cannot thank our fans enough for your continued support. We look forward to seeing you all again at a game soon!