News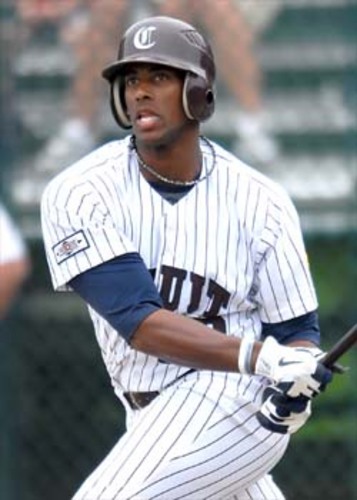 07/07/2011 10:20 AM
Article By:
COTUIT, Mass. - Cotuit Kettleers general manager Bruce Murphy was especially excited this spring about the latest addition to the roster — slugging sophomore outfielder Victor Roache (Georgia Southern), who hit 15 home runs in April. Physically imposing at 6-1, 225, Roache makes his bat look like a toothpick. But for the past five months, it seems he has been hitting with a paddle.

Relatively unknown at the start of the collegiate season, he was a household name when it ended after leading the nation with 30 homers (a single-season Southern Conference record) and finishing second with 84 RBIs, while averaging .326, with a .789 slugging percentage.

How impressive was his season? He hit more dingers than the entire Texas team, which advanced to the College World Series. Not surprisingly, the honors came his way, including Louisville Slugger and Baseball America first-team selections.

Offense across the NCAA dropped last spring due to the switch for safety concerns to the new BBCOR bats. But the change didn't slow down Roache. After hitting .254 with eight home runs and 38 RBIs in his freshman year, he matured into college's greatest slugger.

"The difference was not missing my pitch this year," he said.

He has continued hitting "his pitch" in the Cape League, leading the league in home runs (4), RBIs (15), and slugging percentage (.607), while averaging .344. Most hitters experience a dramatic drop in performance when adjusting to wood bats and facing better pitching, but it's been a smooth transition for Roache.

"I've always liked to use wood bats more than metal because when you play on tournament teams during the summer, you always use wood. It hasn't been a problem for me so far," he said.

Kettleers field manager Mike Roberts has been impressed with his slugger's offensive approach. "He's been very consistent, our only consistent offensive player, and he's mature in his approach to the plate," he said. "Somebody may strike him out, but rarely does he look bad on pitches. For a guy his size he controls his body really well."

Roberts credits his star player with not trying to blast every ball out of the park. "I like Victor's approach. He looks at himself as a line drive hitter and if the ball happens to get a little elevation, then he is strong enough for it to go out," he said.

Roache's power earned an invitation to the TD Ameritrade Home Run Derby in Omaha on July 2. He was following in the footsteps of last year's champion and another Kettleer, Paul Hoilman. Roache hoped to bring back-to-back titles for the Kettleers, but he fell short in the final round. Still, it was a special day, with his father, Victor, pitching to him.

"It went great," he said. "I made it to the finals. I didn't win, but I had a blast just being out there and being able to hit off my dad. It brought back memories of being in high school, and countless hours of taking swings off him."

Since his return from Omaha, Roache has gone 5 for 9 (.555) with one home run and three RBIs. At this pace, he's an early candidate for the Triple Crown, trailing only Brewster's Ryan Jones (Michigan State), who is hitting .364.

Roach figures to have another opportunity to capture a home run title at the Cape Cod League All-Star game at Fenway Park later this month. In fact, he may be a front-runner to win the competition. According to many who attended the Cape League workouts at Fenway on June 30th, he was launching moon shots over the Green Monster and hitting the Sports Authority sign. Last year, Hoilman also won the Cape League derby, blasting three home runs in the final round.