News
08/09/2008 1:42 PM
Article By:
9 August 2008
THIS WEEK IN THE CAPE LEAGUE
2008
ROBERT A. MCNEECE
OUTSTANDING PRO PROSPECT AWARD
Chatham A's Shortstop Grant Green
Wins 2008 Robert A. McNeece Award
As Cape League's Top Pro Prospect
CHATHAM, Mass. – When Chatham's Grant Green (Southern California) was selected as the East Division's starting shortstop for the Under Armour Cape Cod Baseball League All-Star Game last month, his Chatham team was struggling and had fallen out of playoff contention, so he might have figured that would be the highlight of his 2008 season.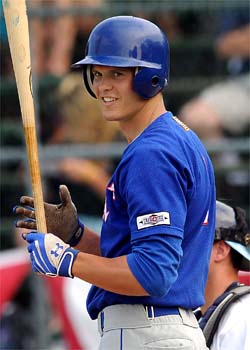 Grant Green
SportsPix 2008
But, with his East All-Stars trailing, 6-4, in the bottom of the eighth inning, Green smashed a clutch, two-run homer over the center field fence to pull his team even and earn the East's All-Star Game MVP award. The fact that he did it in front of a huge crowd in his home ballpark, Chatham's Veterans Field, made the accomplishment all the more meaningful.

Now Green has been singled out for another honor, one that eclipses all the others. He has been named the 2008 winner of the Robert A. McNeece Outstanding Pro Prospect Award, joining such past and present Major League stars as Mark Teixeira (Orleans 1999), Billy Wagner (Brewster 1992), Chuck Knoblauch (Wareham 1988), Robin Ventura (Hyannis 1987), Ron Darling (Cotuit 1980) and Steve "Bye Bye Balboni (Yarmouth -Dennis 1977).

Green, a 6-3, 180-pound native of Anaheim Hills, Calif., is about to enter his junior year at USC, where he was named to the All-Pac-10 Team last spring. He hit .390, second best in the conference, and led the Trojans in virtually every offensive category. He drove in 46 runs, belting nine homers and five triples.

"He's a true five-tool player," said his manager, the veteran John Schiffner, who knows a thing or two about baseball talent. "He can run, although he doesn't have blazing speed, and he has a strong arm and can throw people out. And he certainly can put the bat on the ball. The scouts I've talked to say he's almost certain to go in the first round of the draft next June."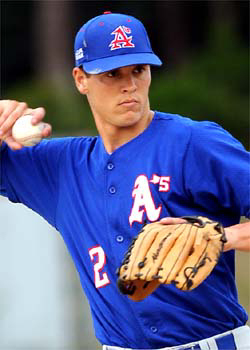 Grant Green
SportsPix 2008
Schiffner says Green compares favorably to Tampa Bay rookie third baseman Evan Longoria, whom he managed at Chatham three summers ago. "They're similar body types and they have the same dedication to the game," Schiffner said. "I'm very fortunate to have had them both here at Chatham."

Longoria, who played mostly at second base for the A's, was the Cape League's MVP in 2005 and, like Green, is a southern Californian – a native of Downey, who played at Long Beach State. He was Tampa Bay's first-round pick (third over-all) in the 2006 draft and quickly advanced through the Rays' system, making the big league club in April and being named to the American League All-Star Team.

So impressed were the Rays by Longoria's potential that they signed the rookie infielder to a $17.5-million, six-year contract, a deal that could be worth up to $44.5 million over nine seasons. Longoria had appeared in just six big league games before agreeing to the deal.

"I'm very happy for Grant," said Schiffner. "He's certainly deserving of the pro prospect award. But I'm a little disappointed that he wasn't named the MVP. I'm not taking nothing away from A.J. (Pollock of Falmouth), who is a great ballplayer, but I felt Grant definitely had an MVP season."

Schniffner continued, "Take Pollock out of the Falmouth lineup and they'd still win, but take Green out of our lineup and we're dead."

Last summer, Green helped Yarmouth-Dennis capture the Cape League championship as he hit .291 with four homers, 12 RBI and 11 steals. He played all four infield positions for the Red Sox and was considered the No. 16 prospect in the entire league.

There would be no championship for Green this summer, as the A's failed to make the playoffs, but not for any lack of effort on his part. He finished fourth in the league with a .348 batting average and was among the leaders in six other key offensive categories. He was second in runs scored (37) and slugging percentage (.547) and third in hits (56), doubles (12) and extra-base hits (19). And his on-base percentage of .451 ranked fifth in the league.

On the base paths, Green was successful on 10 of 13 steal attempts.

Green becomes the first A's position player and the seventh Chatham player over-all to win the Outstanding Pro Prospect Award in its 35-year history, joining pitchers Andrew Miller (North Carolina), 2005; Kyle Snyder (North Carolina), 1998; Matt Anderson (Rice), 1996; Derek Wallace (Pepperdine), 1991; Gary Kanwisher (Oklahoma State), 1982, and Steve Taylor (Delaware), 1976.

The award is named for the late Chatham selectman, A's president and Cape League official Robert A. "Bob" McNeece, who was instrumental in bringing about the 1963 reorganization of summer baseball on Cape Cod that ushered in the "modern era" of the Cape League. Mr. McNeece will be posthumously inducted into the Cape League's Hall of Fame at the annual ceremony Nov. 22 at the Chatham Bars Inn.

Joe Sherman, CCBL Public Relations Dept. ([email protected])

Interns: Chris Blake, James Chandley, Ashley Crosby, Phil Garceau, Stefanie Marini, Laura Rasmussen