News
08/13/2008 1:54 PM
Article By:
13 August 2008
THIS WEEK IN THE CAPE LEAGUE
Championship Week
Harwich One Win Away
From Title After 11-2 Romp
Over Cotuit in Finals Opener
COTUIT, Mass. -- The Harwich Mariners opened the Cape Cod Baseball League's championship series Wednesday with an impressive 11-2 victory over the Cotuit Kettleers at Lowell Park. Harwich can wrap up the series and capture its first Cape League title in 21 years with a victory in game two Thursday night at its home park, Whitehouse Field.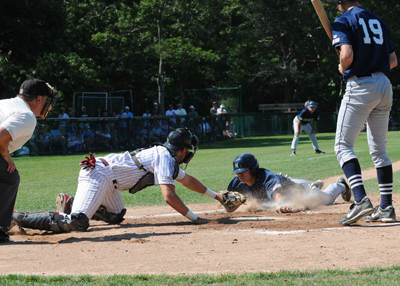 The Harwich Mariners started running early on their way to a game 1 win.
swilson / 2008
Cotuit's usually reliable right-hander Seth Blair (Arizona State) simply didn't have it Wednesday. Blair left after 6-2/3 innings in which he gave up 10 runs. The Mariners tacked on another run in the seventh to make it 11-0 before Cotuit got on the scoreboard.

The hometown crowd of 1,476 sensed it might be a long afternoon for their ace when Joseph Sanders (Auburn) raced home on a wild pitch by Blair in the second inning and number nine hitter Jason Stidham (Florida State) singled in a pair of runs.

Stidham, a .155 hitter with eight RBI during the regular season, really lit up the scoreboard for the Mariners with a seven-RBI game. He followed his two-RBI second with a triple for two in the third. He singled home another pair in the fifth and capped his big day with a sacrifice fly in the seventh to plate Chase Leavitt (Arkansas) with Harwich's 11th and final run.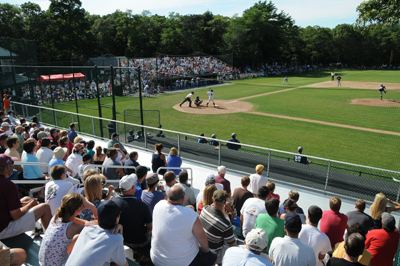 Great crowd at Lowell Park for Game 1
swilson / 2008
Brandon Belt (Texas), Brian Kemp (St. John's) and Alex Hilliard (Vanderbilt) each had an RBI in Harwich's five-run third.

"When people play like Harwich did, I just sit back and congratulate them because they deserved to win the ball game," said Cotuit manager Mike Roberts. "They just played very well, they were aggressive and they took it away from us."

"Obviously we didn't play well," said Stock, "but I don't think that's going to affect us tomorrow. That's the only thing you can do … just throw this one away and try to win two in a row. We've got nine players out there doing their best, so I think we're going to get the 'W'."

Harwich right-hander Michael Morrison (Cal State-Fullerton) held Cotuit scoreless through 6-2/3 innings, scattering six hits while striking out five and walking three. Designated hitter Robert Stock (Southern California) finally knocked Morrison out of the game when he belted a two-run homer. "He was the right guy out there to start this game," said Harwich manager Steve Englert of Morrison.

"We just changed our approach a little bit at the plate and it paid off," said Englert. "Cotuit's a good team. We were just fortunate enough to string a couple of runs together early. They've got a couple of good arms over there."

Blair, who was 4-1 with a 1.55 ERA in the regular season, was lifted in the sixth after giving up 10 runs. "I think they had a game plan against Seth," said skipper Roberts. "He had trouble keeping the ball down … he's a sinker-baller and the ball didn't sink, and when he got it up (Harwich) drove it."

Game two will be played Thursday at Whitehouse Field in Harwich, starting at 7 p.m. Cotuit is pinning its hopes for survival on Nick Hernandez (Tennessee), while Harwich ace Chris Manno (Duke) gets the starting nod for the Mariners. If a third game is necessary, it will be back at Cotuit Friday afternoon at 3.


Ashley Crosby, CCBL Intern ([email protected])

Interns 2008: Chris Blake, James Chandley, Ashley Crosby, Phil Garceau, Stefanie Marini, Laura Rasmussen