News
07/03/2011 12:53 PM
Article By: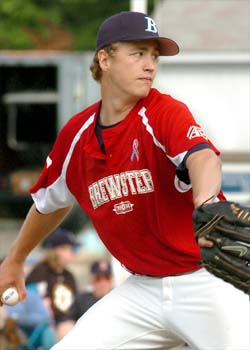 Tony Bucciferro / Photo by SportsPix 2011


COCA COLA PITCHER OF THE WEEK:
Tony Bucciferro, Brewster RHP

Tony Bucciferro (Michigan State) has been named Coca Cola Pitcher and Player of the Week for a dominant one-hit performance against the Commodores this week. Bucciferro was nearly flawless over seven innings, allowing only one base runner and surrendering no runs over seven innings. He struck out five over seven innings.
Bucciferro is helping carry the torch from the 2010 Whitecaps rotation, which boasted two of the best pitchers in the league in Andrew Gagnon (Long Beach State) and Red Sox draftee Anthony Ranaudo (LSU). Bucciferro's 1.48 earned run average currently ranks fifth-best in the league.

Bucciferro is a junior at Michigan State, where he posted an 8-3 record and a 3.38 earned run average last year. He had great success last summer in the New England Collegiate Baseball League, where his .82 earned run average secured him first team All-League honors.