News
08/08/2009 10:58 AM
Article By:
8 August 2009
Round 2 of Playoffs Kick Off With Kettleer Victory
By Katy Fitzpatrick , CCBL Intern
YARMOUTH, Mass. – The Cotuit Kettleers knew they had their work cut out for them taking on the heavily favored Yarmouth-Dennis Red Sox who have dominated all season long and they didn't let intimidation get the best of them as they shut-out the Red Sox 3-0 in Saturday's outing. Fantastic pitching and defense from Cotuit, combined with a productive ninth inning offensively, proved that Cotuit has what it takes to be competitive with the best team in the league.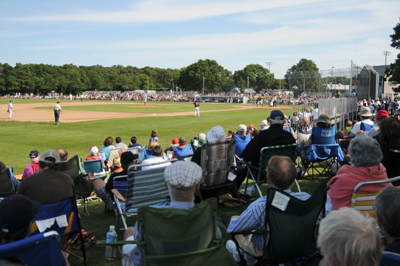 A large crowd at YD saw the Cotuit Kettleers defeat YD
in the top of the ninth inning.
photo by swilson
Chad Bell (Walter State JC), who started the day with a 1.77 ERA and 3-1 record, was on the mound for the Kettleers and had an incredible 8 shut-out inning performance. Bell's success can also be attributed to the stellar defense of his infield, who managed to execute four double plays during the game. Bell allowed just 6 hits and 3 walks with no runs over the eight innings.

The outing, with an estimated 3,372 in attendance, passed rapidly and went scoreless until the top of the ninth. For the second night in a row, the Kettleers have played matches in less than three hours. Yesterday's game ran a little over two and a half hours.

Leave it to Cotuit Field Manager Mike Roberts to shake things up. In the bottom of the sixth, Cotuit executed a perfect hidden ball trick on Blake Kelso (Houston), who was put out by shortstop Chris Bisson (Kentucky). Bisson pretended to return the ball to Bell and then picked off Kelso as he was taking his lead off second base.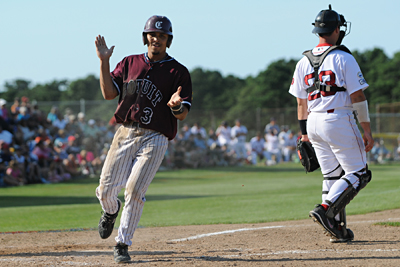 Rico Noel scored Orleans first run in the ninth
to break open a magnificent pitching duel.
photo by swilson
Chris Sale (Florida Gulf Coast University), this year's recipient of the Outstanding Pitcher Award had established a lights out rhythm, sporting ten strikeouts into the top of the ninth inning. Sale started the game with a 1.47 ERA and 4-2 record. That rhythm would be disrupted by Rico Noel's (Coastal Carolina) leadoff single that got things going for the Kettleers. Chris Bisson attempted a sacrifice bunt, and was able to reach base on a throwing error from Sale, with Noel advancing to third. Zach Cone's (Arkansas) RBI single brought home Noel, and Bisson scored on a throwing error by catcher Micah Gibbs (LSU). Sale would leave the game after 8-plus innings, giving up 6 hits, and 3 runs (1 earned).

Chase Dempsay (Houston) relieved Sale with his work cut out for him. Kevin Patterson reached second base as a bunt single turned into a double thanks to another error on the Y-D infield. Cody Stanley hit a sacrifice fly driving in Zach Cone for the first out of the inning, giving Cotuit a 3-0 lead. Cameron Rupp (Texas) and Zach Maggard (Florida Southern) both struck out swinging putting an end to the inning. Dempsey finished off with 1 hit, 1 walk, and 2 strikeouts.

The Sox were not able to answer Cotuit's 3-run inning in the bottom of the ninth against Cotuit's Daniel Tillman (Florida Southern). All 3 batters were retired back-to-back-to-back with two-pop-ups and a 5-3 put out. Bell snagged the win for the Kettleers, with Sale receiving the loss.

The Kettlers will look to clinch the series Sunday afternoon with the home field advantage. Game 2 is set to start at 3 p.m. at Lowell Park in Cotuit.
Katy Fitzpatrick can be reached at [email protected]

Interns: Chris Blake, James Chandley, Ashley Crosby, Phil Garceau, Michael Campbell, Katy Ann Fitzpatrick